Birding the Adirondacks:
Teddy Roosevelt Bird Walks
9:00 AM - 11:00 AM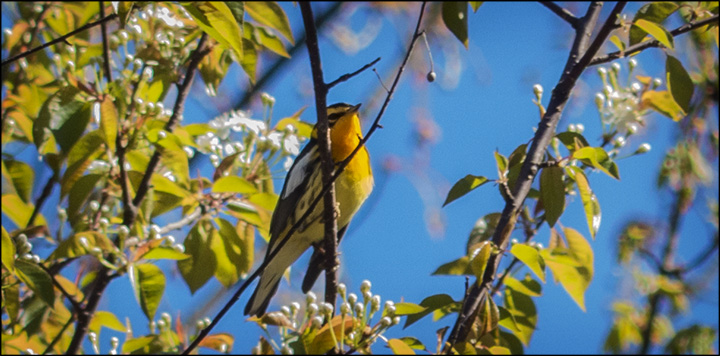 Adirondack Birding Center Director Brian McAllister is leading a series of bird walks at the Paul Smiths VIC. Participants are challenged to see and hear many of the bird species identified by a young Teddy Roosevelt in his research while visiting Paul Smiths in the 1870s (See: Theodore Roosevelt, Jr. The summer birds of the Adirondacks in Franklin County, N.Y.). Birders meet at the VIC building at 9:00 AM. The cost is $20/person. Free forFriends of the VIC Warblers; $15 for Friends of the VIC.   Please preregister by 5 PM the day before by calling the Paul Smith's College VIC at (518) 327-6241.
Bird walks during May through September 2014 are scheduled for the following dates:
Designated an Important Bird Area by the American Bird Conservancy, the 3,000-acre Paul Smith's College VIC property contains every habitat type found in the Adirondack Park with the exception of alpine vegetation. Included on the property is a 60-acre marsh, five ponds, several brooks and swamps, bogs, fens, and varied forest types, most notably northern boreal forest. The 25-mile trail system traverses a variety of habitats with extensive boardwalks through wetland ecosystems. Common sightings at the Paul Smiths VIC include: Wood Duck, American Black Duck, Great Blue Heron, American Bittern, Olive-sided Flycatcher, and Yellow-bellied Flycatcher. Warblers include (Yellow) Palm Warbler, Northern Parula, Blackburnian Warbler, Black-throated Blue Warbler, Black-throated Green Warbler, and Nashville Warbler. Other sightings may include Gray Jay, Boreal Chickadee, Wilson's Snipe, Broad-winged Hawk, Hooded Merganser, Black-backed Woodpecker, and Ring-necked Duck. Click here for a list of birds seen along the various trails at the Paul Smiths VIC.
Trip Reports from the 2014 Spring & Summer Bird Walks
Trip Reports from the 2013 Fall Bird Walks
Trip Reports from the 2013 Spring & Summer Bird Walks
Trip Reports from the 2012 Fall Bird Walks
Trip Reports from the 2012 Summer Bird Walks
Trip Reports from the 2011 Summer Bird Walks