Sunday Afternoon Live Music and Ski Series:
Open Celtic and Traditional Jam hosted by Sue Grimm, Steve Borst, and Erik VanYserloo
16 March 2014
Weekends are for music at the VIC!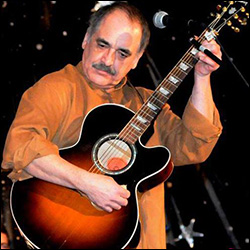 The Sunday Afternoon Live Music and Ski Series continues Sunday, 16 March in the Great Room at the VIC from 1:00 to 3:00 PM with a Celtic and traditional fiddle music jam hosted by Reel Jig Band members Sue Grimm, Steve Borst, and Erik VanYserloo. Because this is the day before St. Patrick's Day, the theme is Celtic, but the event will also include other traditional fiddling and dancing tunes. However, all instruments are welcome -- not just fiddles!
Steve Borst, a former member of Inisheer, has been playing guitar since he was 9. He started singing with the Keesler Male Choir, a US Air Force choir in 1970. Venues include the 1980 Winter Olympics, the Ranch (a popular sleigh/dinner ride), the Wawbeek resort, The Point, Whiteface Mountain Cloudspin lounge and many other venues playing both solo and with the Americana band AKA George. He performs with Split Rock, as well as his own solo act in many local venues. He has been teaching music lessons privately in Saranac Lake for many years.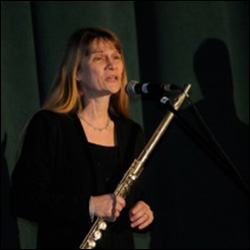 Sue Grimm, another former member of Inisheer, plays the flute, whistle, accordion, and hammered dulcimer. A native Adirondacker, Sue Grimm grew up in a family of classically trained musicians, where she absorbed the standard piano repertoire, symphonic literature, big band jazz, show tunes, 50's crooners, and hymns. Sue fell in love with both Renaissance polyphony and the music of India as an undergrad, then embarked on a folk-roots apprenticeship in graduate school. This included early American music, traditional fiddle tunes, and popular songs from the 20's and 30's. During this time she finally kicked the printed music habit, and began both improvising and arranging. She has taught music lessons privately in Saranac Lake for many years.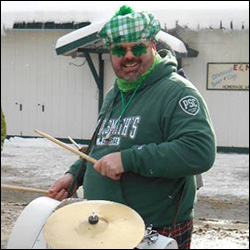 Erik VanYserloo is a percussionist and third-generation drummer who got his first "Snoopy drum set" at 3 months old. Erik moved from drum set to hand percussion in 2003 and never looked back. His early experiences include stints with progressive rock bands "Short Circuit", "Glasya", and "Mirage." His energetic percussion rhythms bring a unique sound to traditional Irish, Cape Breton, Scottish, Maritimes, and Appalachian music. For those tunes of Quebecois origin, he will fire up the wooden spoons to simulate the sounds of French Canadian clogging. In his spare time, he teaches drumming and occasionally leads drum circles. Erik is a founding member of Bucket Rukus (from the Saranac Lake Winter Carnival Parade), as well as the founder of the Reel Jig Band.

Grab your skis, boots, and poles and head to the VIC for a fun afternoon of skiing and music   Entry is free with your ski pass.  Underwritten by Friends of the VIC.