New Moon Art Show: Photo "Shoot-out"
24 April - 17 May 2015

Twelve local photographers have accepted the challenge to participate in a photo "shoot-out" to be held at the VIC from 17-21 April. The shoot-out coincides with the Science, Art and Music Festival on 18 April. The photographers have four days to take photos anywhere within the VIC's 3,000 acres. Each photographer can display three framed photos in the show.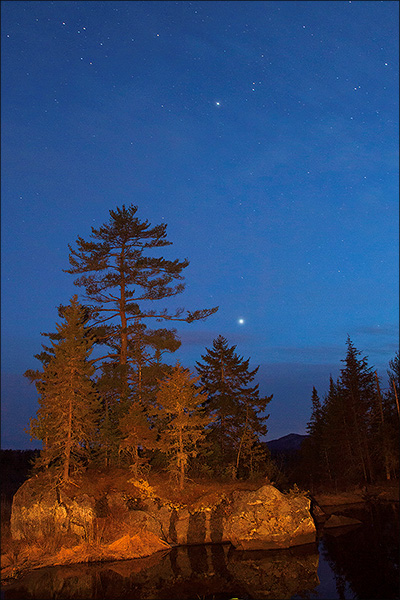 Photo by Russ Hartnung: The Island. Nightscape.
Winner of the Judge's Choice Awards
at the 2015 VIC Photo Shoot-out

Ed Murphy's images explore the natural beauty of the Northern Adirondacks, focusing on the mountains and vistas of Norman Ridge, as well as the flora and fauna of the Bloomingdale Bog and the Paul Smiths VIC.  His landscape photos demonstrate the dramatic visual impact of changing weather and seasons.   
Barry Lobdell produces fine art photography of natural and cultural landscapes. His subject matter is often the natural landscape, particularly the Adirondack Mountain region of northern New York, but he is also intrigued by the cultural landscape, in which man and his creations become the subjects. The objective of his photography remains the same, regardless of subject: Find the heart of what he sees and present it in the best possible way.
Eleanor Sweeney makes digital transfers on metal, paper, wood, and fabric, as well as traditional photographic prints. Her eye is often drawn to small, ordinary things, which she likes to manipulate a bit.  
Burdette Parks specializes in fine art landscape/nature work. He has lived in the Adirondacks since 1990 with his wife Fran Yardley operating RoundLake Studios, focusing on the visual and performing arts. His photographs reveal his fascination with the textures, form, and surface of objects found in nature.
Mike Lynch is a staff writer and photographer for the nonprofit Adirondack Explorer, the regional bimonthly news magazine. He focuses on outdoor recreation and environmental issues. From 2007 until 2014, he worked as an outdoors writer and photographer for the Adirondack Daily Enterprise in Saranac Lake.  
Jill Wenner's photography is inspired by her fascination with water and light patterns and their interactions with the natural and man-made environment. She seeks to create unique photographs that cause people to pause and contemplate. 
Russ Hartung's main interest is landscape and nature photography. His favorite landscape and natural subject is the Adirondacks – an interest which began when he came to the area for Boy Scout camp as a kid and continued with family vacations on Lake Champlain.  
Phil Gallos got his first camera when he was six years old – a gift from his father – and has been photographing ever since. He worked at the Adirondack Daily Enterprise as a reporter, photographer, and darkroom technician from 1971 to 1976.  His photographs have appeared in a variety of publications over the last forty years, including Adirondack Life magazine. 
James Bullard has been photographing for over fifty years. His preferred subjects are flowers and landscapes, but (as a visual omnivore) he will photograph anything that grabs his attention. His photographs reflect the deep pleasure he takes in spending time outdoors in nature. 
Jon Chodat's photographs display an acute level of observation, from a hummingbird hovering within the flashy red of a monarda flower to the stillness of the Great Blue Heron waiting for dinner in the reflected gold of an autumn river. Chodat says of his work: "My work is what I have a passion for." 
Karla Brieant is a landscape/nature photographer who specializes in photographs of the Adirondack Park. She uses manual cameras and techniques; and the images seen are totally unaltered. What you see is exactly as it appeared in nature. 
Brendan Wiltse has been taking photographs for over 15 years, starting with black and white 35mm film. He made the switch to digital seven years ago. His photographs reflect his fascination with mountain vistas and with the play of sunlight on water and clouds.
The exhibit will hang from 24 April through 17 May 2015. There will be an Artists' Reception on 26 April from 3:00 PM to 5:00 PM. Free admission.