Adirondack Wildflowers:
Starflower (Trientalis borealis)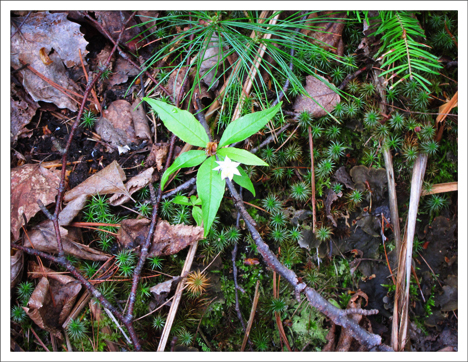 Starflower is a North American woodland perennial, which grows in northern New York, including in the Adirondack Mountains. This plant is also known as the Northern Starflower and Maystar. Starflower is a member of the primrose family. It is a smooth, delicate plant which grows up to 8 inches tall, with a single whorl of 5-10 unequal, narrow thin leaves at the top of the stem. The plant produces one or two white flowers, each 1/2 inch wide, consisting of five to nine petals that form a star-like shape. The flowers are found on top of stalks which are above the lanceolate leaves. The plant blooms in late spring and midsummer.
The background of shiny green leaves against which these pure white, star-like flowers are set accentuates the allusion to a star. The genus name is from a Latin word meaning one-third of a foot and refers to the height of the plant. The species name borealis refers to being from the north, although this plant also grows in the Midwest and the higher elevations of the southern Appalachian Mountains.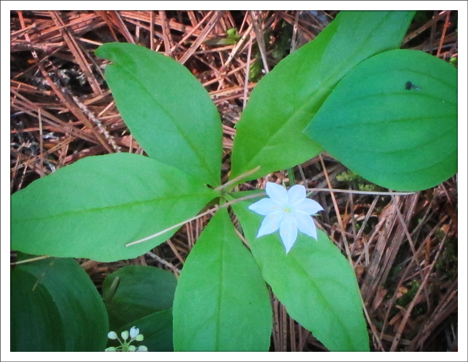 Adirondack Wildflowers: Starflower in bloom at the Paul Smiths VIC (26 May 2012)
Starflower is one of the more common spring wildflowers in upstate New York and eastern North America, occurring in both deciduous and coniferous forests. Depending on latitude and elevation, starflowers generally bloom from mid- to late spring into early summer; the bloom period is later on mountain tops, usually summer. Starflowers prefer open to dappled shade in moist woods, but they may also be found dry, sandy, acidic soils, as well as mossy bogs and conifer swamps.
Starflowers usually becomes dormant in mid-summer with the leaves yellowing and then falling to the ground so that all that is left is the stem with 1 to 2 tiny seed capsules ripening at the tip. Seeds do not germinate before undergoing a cold stratification and do not germinate until the fall of the second year allowing seeds to be disseminated by insects. Starflowers will establish themselves in successional old fields that are adjacent to established colonies in old woods.
Starflowers grow profusely at the Paul Smiths VIC along many of the trails. The plant usually begins blooming on the VIC trails in May.
References
Lady Bird Johnson Wildflower Center. Native Plant Database.
United States Department of Agriculture. Plants Database.
Flora of North America. Plant Database.
US Forest Service. Celebrating Wildflowers.
Ruth Schottman. Trailside Notes: A Naturalist's Companion to Adirondack Plants (Adirondack Mountain Club, 1998), p 71.
Doug Ladd. North Woods Wildflowers (Falcon Publishing, 2001), p. 209.
William K. Chapman, et al. Wildflowers of New York in Color (Syracuse University Press, 1998), pp. 30-31.
Lawrence Newcomb. Newcomb's Wildflower Guide (Little Brown and Company, 1977), pp. 386-387.