Adirondack Wildflowers:
Sheep Laurel (Kalmia angustifolia)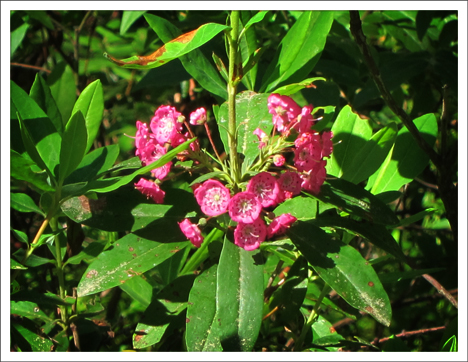 Sheep Laurel is a low evergreen shrub which bears a cluster of deep pink flowers from late spring to midsummer. Each of the small, saucer-shaped flowers has five dark pink petals and ten stamens. The flowers appear underneath the new leaves and the flower cluster encircles the stem. The leaves below the flowers are darker. The plant grows about three feet tall. Sheep Laurel is a member of the Heath family.
The genus name (Kalmia) is in honor of Peter Kalm, a student of Linnaeus. Kalm was a Swedish-Finish botanist and naturalist who traveled and collected plants in the Americas during the 18th century.
The flowers of the Sheep Laurel plant are similar to those of Bog Laurel. However, the Bog Laurel flowers appear on the top of the stem, while those of the Sheep Laurel bloom several inches from the top of the stem, below a whorl of new, light green leaves. The plant is also known as Lambkill -- a reference to the fact that the foliage is poisonous to livestock.
Sheep Laurel is found in bogs and in moist soils along woodlands. It grows in Ontario east to Newfoundland and in the US south to Virginia.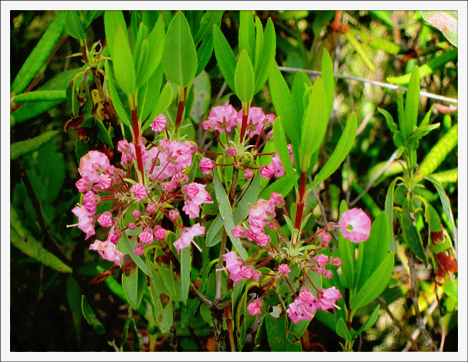 Sheep Laurel is found in Barnum Bog at the Paul Smiths VIC, where it can be seen from the boardwalk on the Boreal Life Trail. Sheep Laurel usually begins blooming in early June at the VIC.
References
Lady Bird Johnson Wildflower Center. Native Plant Database.
United States Department of Agriculture. Plants Database.
Plants for a Future. Database.
Flora of North America. Plant Database.
Anne McGrath. Wildflowers of the Adirondacks (EarthWords, 2000), pp. 29, 47.
Doug Ladd. North Woods Wildflowers (Falcon Publishing, 2001), p. 75.
Lawrence Newcomb. Newcomb's Wildflower Guide (Little Brown and Company, 1977), pp. 292-293.
Roger Tory Peterson and Margaret McKenny, A Field Guide to Wildflowers. Northeastern and North-central North America (Houghton Mifflin Company, 1968) pp. 228-229.
William K. Chapman, et al. Wildflowers of New York in Color (Syracuse University Press, 1998), pp. 56-57.
National Audubon Society. Field Guide to Wildflowers. Eastern Region. (Alfred A. Knopf, 2001), pp. 509-510, 512.
Peter Kalm. Travels Into North America. Volume 1 (London, 1773). online facsimile edition at http://www.americanjourneys.org/aj-117a/summary/index.asp. Accessed 21 June 2012.