Adirondack Wildflowers:
Rose Pogonia (Pogonia ophioglossoides)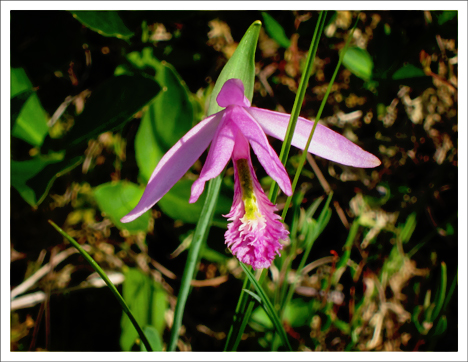 Rose Pogonia is a member of the Orchid family which sports a single rose-pink flower from late June through mid-July. The petals of the flower have a delicate fragrance when fresh, said to be reminiscent of red raspberries or sweet violets. The lower lip petal is deeply fringed and bearded in the center with yellow bristles. The flower is usually a deep rosy pink, although pale pink to white specimens have been observed. The plant grows 15 inches tall, with a narrow upright leaf near the middle of the stem.
The Latin name "Pogonia" means beard -- a reference to the bearded lip on the flower. Rose Pogonia is also known as Snake Mouth, Snakemouth Orchid, Beard Flower, and Adder's Mouth.
Rose Pogonia may be found in sphagnum bogs, fens, wet meadows, roadside ditches, and acidic swamps in the Adirondack Mountains and throughout the northeast. Its range is from Newfoundland to Florida, west to the Mississippi River Valley. The USDA lists it as threatened or endangered in several states. In New York State, it is listed as "exploitably vulnerable."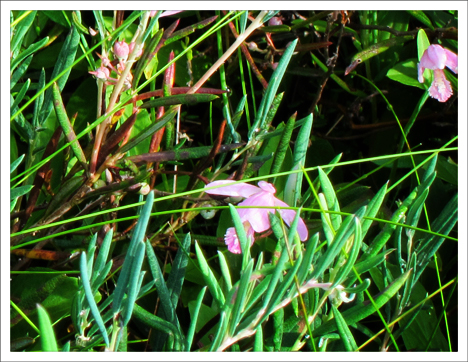 Adirondack Wildflowers: Rose Pogonia blooming on the Barnum Bog at the Paul Smiths VIC (13 July 2011)
Rose Pogonia grows in the Barnum Bog at the Paul Smiths VIC, where it usually begins blooming in late June or early July.
References
Lady Bird Johnson Wildflower Center. Native Plant Database.
United States Department of Agriculture. Plants Database.
Flora of North America. Plant Database.
Anne McGrath. Wildflowers of the Adirondacks (EarthWords, 2000), pp. 31, 48.
Doug Ladd. North Woods Wildflowers (Falcon Publishing, 2001), p. 90.
Lawrence Newcomb. Newcomb's Wildflower Guide (Little Brown and Company, 1977), pp. 38-39.
Roger Tory Peterson and Margaret McKenny. A Field Guide to Wildflowers. Northeastern and North-central North America (Houghton Mifflin Company, 1968), pp. 214-215.
Donald D. Cox. A Naturalist's Guide to Wetland Plants. An Ecology for Eastern North America (Syracuse University Press, 2002), pp. 16,60,89.
William K. Chapman, et al. Wildflowers of New York in Color (Syracuse University Press, 1998), pp. 68-69.
National Audubon Society. Field Guide to Wildflowers. Eastern Region. (Alfred A. Knopf, 2001), pp. 664.
William K. Chapman. Orchids of the Northeast: A Field Guide (Syracuse University Press, 1997), pp. 44-46.