Adirondack Wildflowers:
Purple Trillium (Trillium erectum)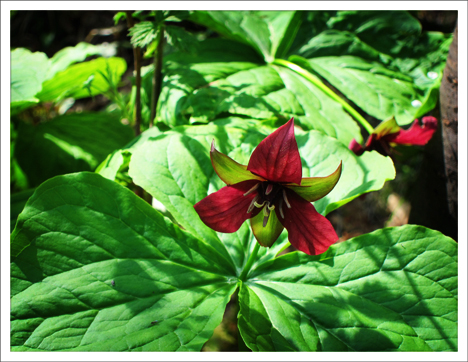 Purple Trillium, also known as Red Trillium or Wake-robin, is a spring-flowering wildflower which grows in upstate New York. This plant is native to the east and northeastern areas of North America. It is a member of the lily family. In spring, the plant sports deep red flowers, giving rise to the name of Wake-robin -- a reference to the red breast of the American Robin (whose arrival also heralds spring). The plant is also known as Stinking Benjamin -- a reference to the unpleasant odor of the flowers.
The flowers of the Purple Trillium, which appear in late April and May, are about 2.5 inches wide with three green sepals and three maroon petals. The flowers grow on a short stalk about 1-4 inches above the leaves of the plant. The foul smell of the flowers is said to attract carrion flies that act as pollinators. The petals wither in 2-3 weeks, leaving a fleshy, berry-like fruit. The plant, which is 8 to 16 inches in height, has three leaves up to seven inches long.
Purple Trilliums grow in rich woodland, in eastern North America, Quebec to Ontario and Michigan, south to Tennessee. In the Adirondacks, Purple Trilliums are said to grow to an altitude of about 3500 feet, while Painted Trilliums reportedly have been found up to 4400 feet.
Early herbalists reportedly used the Purple Trillium to treat gangrene. It was also used by native North American Indian tribes as to aid childbirth. An alternate name for the plant -- "Bethroot" -- is a corruption of the term "birth root."
Purple Trilliums are found along many of the trails at the Paul Smiths VIC, although they are less abundant than the Painted Trilliums. Purple Trilliums usually begin blooming in May.
References
Lady Bird Johnson Wildflower Center. Native Plant Database.
United States Department of Agriculture. Plants Database.
Plants for a Future. Database.
Flora of North America. Plant Database.
US Forest Service. Celebrating Wildflowers.
Ruth Schottman. Trailside Notes: A Naturalist's Companion to Adirondack Plants (Adirondack Mountain Club, 1998), pp. 61-64.
Anne McGrath. Wildflowers of the Adirondacks (EarthWords, 2000), p. 72.
Doug Ladd. North Woods Wildflowers (Falcon Publishing, 2001), p. 52.
Lawrence Newcomb. Newcomb's Wildflower Guide (Little Brown and Company, 1977), pp. 124-125.
Roger Tory Peterson and Margaret McKenny. A Field Guide to Wildflowers. Northeastern and North-central North America (Houghton Mifflin Company, 1968) pp. 212-213.
William K. Chapman, et al. Wildflowers of New York in Color (Syracuse University Press, 1998), pp. 50-51.
National Audubon Society. Field Guide to Wildflowers. Eastern Region. (Alfred A. Knopf, 2001), pp. 405,615.