Adirondack Wildflowers:
Pipsissewa (Chimaphila umbellata)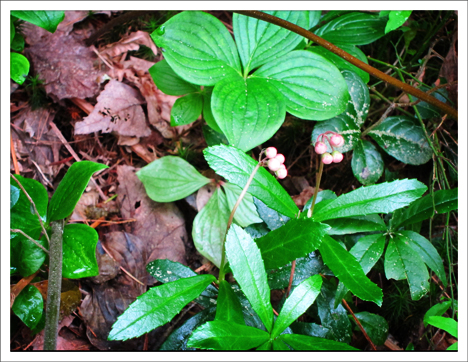 Pipsissewa is a native Adirondack wildflower which produces a cluster of fragrant pink flowers in mid-to late July. Each flower is 1/2 inch wide, with five thick waxy petals. The flowers, which are pollinated by insects, later become brown, rounded capsules. Pipsissewa is an evergreen plant with glossy, dark green, lance-shaped, toothed leaves. It grows up to 10 inches tall. Pipsissewa is also known as Prince's Pine. It is a member of the Wintergreen family (family Pyrolaceae).
Pipsissewa can be found in well-drained woods, usually in light shade, in the Adirondack Mountains. It grows in Ontario and Quebec, south to the northern US.
The leaves of the Pipsissewa plant reportedly can be made into a tea or used as flavoring in root beer. The leaves have also been used to flavor candy. In addition, pipsissewa had an important medicinal role among North American Indians and settlers. It apparently was used by many tribes to treat a wide variety of aliments, including fevers, kidney stones, skin diseases, stomach ailments, and chronic rheumatism. The plant was reportedly also used by some tribes for backache.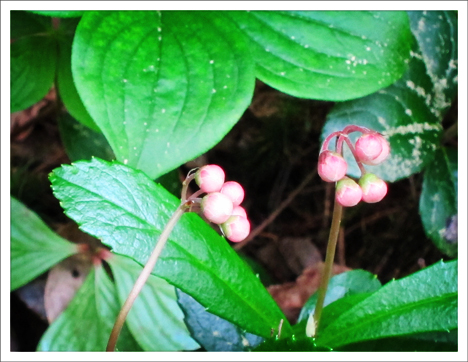 Pipsissewa may be found on the Boreal Life Trail and the Heron Marsh Trail at the Paul Smiths VIC. It usually begins blooming in early July at the VIC.
References
Lady Bird Johnson Wildflower Center. Native Plant Database.
United States Department of Agriculture. Plants Database.
Plants for a Future. Database.
Flora of North America. Plant Database.
University of Michigan. Native American Ethnobotany. A Database of Foods, Drugs, Dyes and Fibers of Native American Peoples, Derived from Plants.
Anne McGrath. Wildflowers of the Adirondacks (EarthWords, 2000), pp. 21,43.
Doug Ladd. North Woods Wildflowers (Falcon Publishing, 2001), p. 94.
Lawrence Newcomb. Newcomb's Wildflower Guide (Little Brown and Company, 1977), pp. 284-285.
Roger Tory Peterson and Margaret McKenny. A Field Guide to Wildflowers. Northeastern and North-central North America (Houghton Mifflin Company, 1968) pp. 234-235.
National Audubon Society. Field Guide to Wildflowers. Eastern Region. (Alfred A. Knopf, 2001), pp. 718.
William K. Chapman, et al. Wildflowers of New York in Color (Syracuse University Press, 1998), pp. 22-23.