Adirondack Wildflowers:
Partridgeberry (Mitchella repens)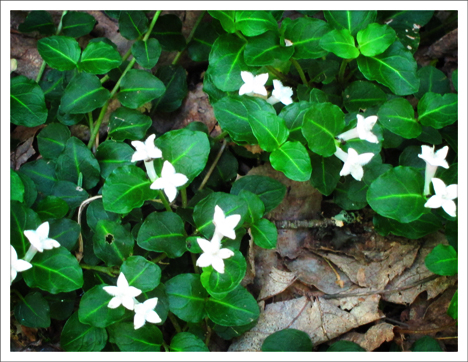 Partridgeberry is a trailing, evergreen herb which grows in dry to moist woods in the Adirondack Mountains. The tiny white flowers are fragrant and usually grow in terminal pairs, up to 1/2 inches long, with four petal-like lobes. The delicate, fuzzy flowers are followed by bright red berries. The evergreen leaves are rather glossy, with prominent whitish green veins.
The common name -- Partridgeberry -- is apparently a reference to the belief that the berries are relished by partridges. Although the fruits are reportedly eaten by Ruffed Grouse and Quail, there is no evidence that the plant is of great importance to wildlife. Partridgeberry is also known as Twinberry, Deer Berry, Checkerberry, Squaw Berry, and Running Box. Partridgeberry grows throughout the northeast, from Newfoundland to Florida, west to Texas and Minnesota.
The berries reportedly are edible, but are said to be nearly tasteless. Tea made from Partridgeberry leaves was used by several North American Indian tribes as an aid in childbirth. The plant was also used to treat medical ailments, such as insomnia, fever, rheumatic pain, back pain, and convulsions.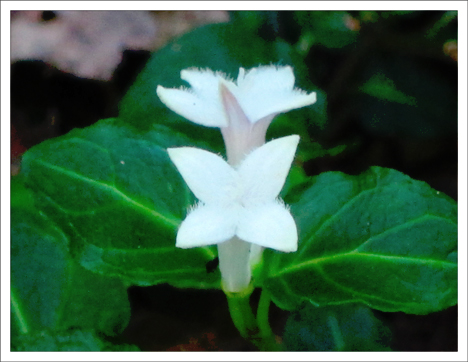 Adirondack Wildflowers: Partridgeberry blooming on the Boreal Life Trail at the Paul Smiths VIC
Partridgeberry can be seen on the Boreal Life Trail at the Paul Smiths VIC. The plant usually starts blooming in mid- to late June at the VIC.
References:
Lady Bird Johnson Wildflower Center. Native Plant Database.
United States Department of Agriculture. Plants Database.
Plants for a Future. Database.
University of Michigan. Native American Ethnobotany. A Database of Foods, Drugs, Dyes and Fibers of Native American Peoples, Derived from Plants.
Marie Harrison. Ground covers for the South (Pineapple Press, 2006). p. 76. Retrieved 3 July 2012.
Alexander Campbell Martin, et al. American wildlife & plants: a guide to wildlife food habits; the use of trees, shrubs, weeds, and herbs by birds and mammals of the United States (Courier Dover Publications, 1951). p. 361. Retrieved 3 July 2012.
James Howard Miller and Karl V. Miller (May 2005). Forest plants of the Southeast and their wildlife uses (University of Georgia Press, 2005) p. 280. Retrieved 3 July 2012.
Anne McGrath. Wildflowers of the Adirondacks (EarthWords, 2000), p. 14.

Doug Ladd. North Woods Wildflowers (Falcon Publishing, 2001), p. 222.
Lawrence Newcomb. Newcomb's Wildflower Guide (Little Brown and Company, 1977), pp. 156-157.
Roger Tory Peterson and Margaret McKenny. A Field Guide to Wildflowers. Northeastern and North-central North America (Houghton Mifflin Company, 1968) pp. 236-237.
National Audubon Society. Field Guide to Wildflowers. Eastern Region. (Alfred A. Knopf, 2001), pp. 766-767.
William K. Chapman, et al. Wildflowers of New York in Color (Syracuse University Press, 1998), pp. 6-7.