Adirondack Wildflowers:
Indian Pipe (Monotropa uniflora)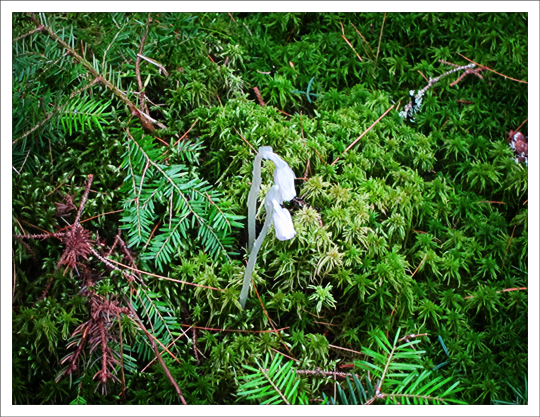 Indian Pipe is an Adirondack wildflower with a thick, translucent stem ending in a white nodding flower. It grows about ten inches tall. A few plants may be a pale salmon pink. After flowering, the stem becomes upright and the flower is replaced by a seed capsule; the whole plant becomes dark brown or black. Indian Pipe is unable to synthesize its own food due to a lack of chlorophyll. The plant derives its nourishment from decayed organic material through a fungal relationship associated with the roots.
The plant reportedly is edible, tasteless when raw, but with a taste like asparagus when cooked. The plant has been used by some native North American Indian tribes for medicinal purposes. Cherokee tribes, for instance, reportedly used the pulverized root as an anticonvulsive, while the Mohegans used an infusion of the root or leaves as an analgesic.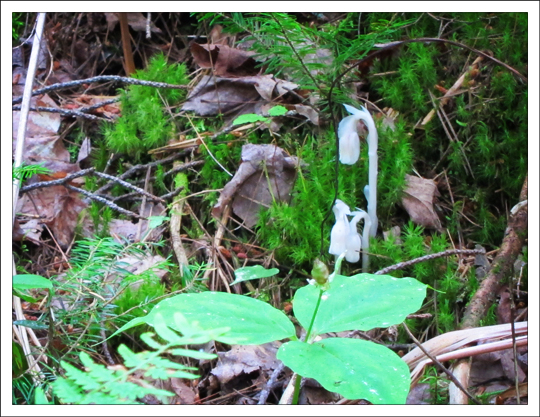 Adirondack Wildflowers: Indian Pipe in bloom at the Paul Smiths VIC (29 July 2011)
Indian Pipe grows in woodland humus, in deeply shaded locations, from Northwestern California to Alaska; east across the northern part of the western and most of the eastern United States.
Indian Pipe may be found on many of the trails at the Paul Smiths VIC. It usually begins blooming in July at the VIC.
References:
Lady Bird Johnson Wildflower Center. Native Plant Database.
United States Department of Agriculture. Plants Database.
Plants for a Future. Database.
Flora of North America. Plant Database.
University of Michigan. Native American Ethnobotany. A Database of Foods, Drugs, Dyes and Fibers of Native American Peoples, Derived from Plants.
New York Flora Association. New York Flora Atlas.
The New York Botanical Garden. The C. V. Starr Virtual Herbarium.
NatureServe Explorer. Online Encyclopedia of Life.
Anne McGrath. Wildflowers of the Adirondacks (EarthWords, 2000), pp. 20.

Doug Ladd. North Woods Wildflowers (Falcon Publishing, 2001), p. 198.
Lawrence Newcomb. Newcomb's Wildflower Guide (Little Brown and Company, 1977), pp. 172-173.
Roger Tory Peterson and Margaret McKenny. A Field Guide to Wildflowers. Northeastern and North-central North America (Houghton Mifflin Company, 1968) pp. 232-233.
National Audubon Society. Field Guide to Wildflowers. Eastern Region. (Alfred A. Knopf, 2001), pp. 637-638.
William K. Chapman, et al. Wildflowers of New York in Color (Syracuse University Press, 1998), pp. 32-33.