Celebrate the Holidays
Saturday, 22 December 2012
Noon to 3:00 PM
Join the VIC staff on 22 December to help spread holiday cheer. Weather permitting, there will be skiing and snowshoeing on the expanded winter trail system. There will be craft items on hand to help trim the VIC Christmas tree. Light refreshments will be served. Come and enjoy the new and improved trail system at the VIC, or just come to relax, listen to music, view the latest art showing, or catch up with old friends.
Christmas and Adirondack Theme Songs with Jamie Savage
Noon and 2:00 PM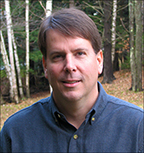 Singer/song writer Jamie Savage will perform from noon to 1:00 PM and 2:00 to 3:00 PM on Saturday, 22 December. Jamie began writing songs soon after he started playing guitar at the age of 16. While a student at Paul Smith's College in the early 1980s, Jamie played rhythm guitar and sang lead vocals for a college rock n roll band. His new songs focus on the natural and cultural history of the Adirondacks--where he has spent summers since he was 9 and lived year-round for the last 20 years--and on his concern for the environment in an era of exponential human population growth. At the VIC, Jamie will play originals, covers and holiday favorites on guitar, banjo and harmonica. 
Birds of Prey Demonstration with Mark Manske
1:00 PM

Mark Manske of Adirondack Raptors will bring his live birds of prey to the VIC for a special presentation at 1:00 PM. Adirondack Raptors is a privately owned business that monitors and studies the local raptor populations. Its mission is to nurture a healthy appreciation of nature in the community by using the raptors as an educational platform. Mr. Manske has been studying raptors since 1984; he has been an adjunct college professor at Paul Smiths College since 2008. He also writes for Embark, published every 2 months through the Adirondack Daily Enterprise.