Adirondack Wildflowers:
Goldthread (Coptis trifolia)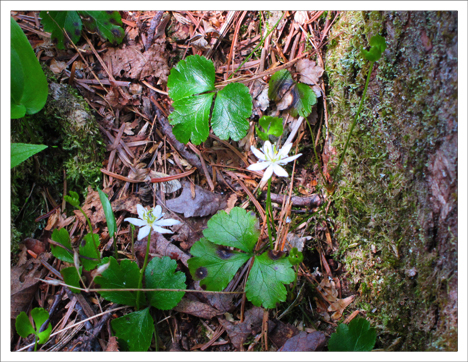 Goldthread is an Adirondack woodland perennial, 3-6 inches tall, which produces a solitary white flower on a long, slender, leafless stem. Each flower has four to seven, petal-like sepals and numerous white stamens. The attractive, glossy evergreen leaves are 1-2" wide and divided into three scalloped, toothed leaflets.
The common name refers to the yellow, thread-like underground roots. Another common name, Canker-root, derives from the fact that early settlers and Indians used this plant to treat mouth sores. The generic name Coptis comes from the Greek Koteion, meaning "to cut." This is a reference to the divided leaves. "Trifolio" refers to the number of leaflets.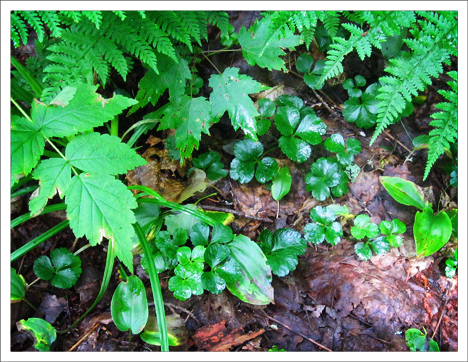 Goldthread flourishes in moist areas up to the timber-line. The plant prefers bogs and shady areas at the base of conifers and beds of moss. Its range includes the northeastern US (including the Adirondack Mountains) and much of Canada.
Goldthread has been used for medicinal purposes. It reportedly was employed by native Indians and white settlers in North America to treat soreness in the mouth. The rhizome and roots are said to have antibacterial properties. They have also been used healing sores of eyes, for thrush, for a tonic, and as a cure for alcoholism. The plant was also used as a gargle for sore throats and made into a tea for use as an eyewash. The roots have also been used to flavor beer. Indians in North America also used the roots as a yellow dye.
Goldthread may be seen along many of the trails at the Paul Smiths VIC. The plants usually begin blooming in May.
References:
Lady Bird Johnson Wildflower Center. Native Plant Database.
United States Department of Agriculture. Plants Database.
Plants for a Future. Database.
Flora of North America. Plant Database.
Ruth Schottman. Trailside Notes: A Naturalist's Companion to Adirondack Plants (Adirondack Mountain Club, 1998), pp. 43-45.
Anne McGrath. Wildflowers of the Adirondacks (EarthWords, 2000), p. 13.
Doug Ladd. North Woods Wildflowers (Falcon Publishing, 2001), p. 215.
Lawrence Newcomb. Newcomb's Wildflower Guide (Little Brown and Company, 1977), pp. 184-185.
Roger Tory Peterson and Margaret McKenny. A Field Guide to Wildflowers. Northeastern and North-central North America (Houghton Mifflin Company, 1968) pp. 30-31.
William K. Chapman, et al. Wildflowers of New York in Color (Syracuse University Press, 1998), pp. 10-11.