Full Moon Friends of the VIC Ski Party
Valentine's Day Ski Party
Friday, 14 February 2014
7:00 - 10:00 PM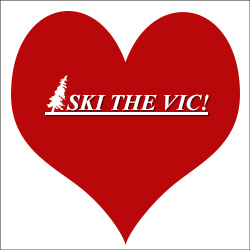 The VIC trails are beautiful by moonlight! Celebrate Valentine's Day on 14 February in true Adirondack style by bringing your Valentine out for a moonlit or head-lamped ski on the VIC trails.
Then join us in the VIC Building for a Full Moon Ski Party. Music will be provided by Split Rock, a classic rock band with a touch of jazz and folk. The party starts at 7:00 PM and runs until 10:00 PM. Snacks available.
The cost is $10.00 per person. $7.50 per person for Friends of the VIC. Call the VIC with any questions: 518-327-6241.