Adirondack Wildflowers:
Creeping Snowberry (Gaultheria hispidula)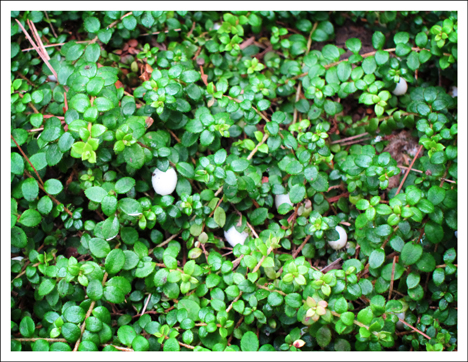 Adirondack Wildflowers: Creeping Snowberry at the Paul Smiths VIC in early August
Creeping snowberry is a low trailing perennial plant found in bogs and wetland forests in the Adirondacks. The pale green-white flowers are seen in spring (April-May), followed by the white berries in late summer. The fruit is white, berry-like but rather dry, contains many seeds, and is the source of the common name. The leaves and berries of this plant taste and smell like wintergreen.
This attractive little plant is a low-growing, matlike, evergreen shrub. The plant may be recognized in any season by its growing habit and its leaves. The leaves are alternately arranged, mostly less than 3/8 inch (1 cm) in length, egg-shaped or rounded, very short-stalked, hairless above and with scattered brownish hairs below.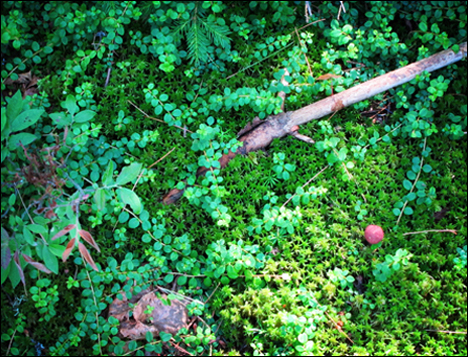 Adirondack Wildflowers: Creeping Snowberry near the Barnum Pond Overlook (15 July 2011)
Creeping snowberry grows in acidic and neutral soils in open woodland and forest verges, particularly on wet ground such as in or on the edge of bogs, often near tree stumps. It is pollinated by solitary bees, bumblebees, bee-flies and hoverflies, while chipmunks and deer mice spread the seed.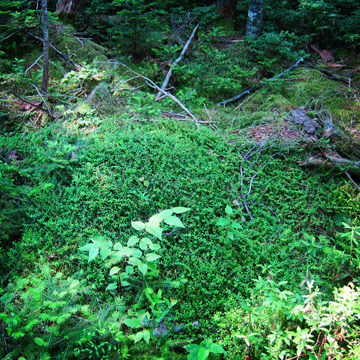 The plant's original range spread from far northern Canada to as far south as North Carolina, but it has been extirpated from the southerly portions of its original range. Like most plants in North America, deforestation and competition with invasive ornamentals (especially shade-loving groundcovers, such as English ivy or winter creeper commonly sold at garden centers) probably hurts the creeping snowberry significantly. As a result, it has been extirpated from some of its original range and classified as rare in several states.
Creeping snowberry may be seen at the Paul Smiths VIC near the Barnum Pond Overlook on the Boreal Life Trail, where it forms a dense mat, creating a miniature landscape. The small white berries usually appear in early August.
References:
Lady Bird Johnson Wildflower Center. Native Plant Database.
United States Department of Agriculture. Plants Database.
US Forest Service. Celebrating Wildflowers.
Doug Ladd, North Woods Wildflowers (Falcon Publishing, 2001), p. 183.
Lawrence Newcomb. Newcomb's Wildflower Guide (Little Brown and Company, 1977), pp. 128-129.
Roger Tory Peterson and Margaret McKenny. A Field Guide to Wildflowers. Northeastern and North-central North America (Houghton Mifflin Company, 1968) pp. 38-39.