Adirondack Wildflowers:
Buckbean (Menyanthes trifoliata)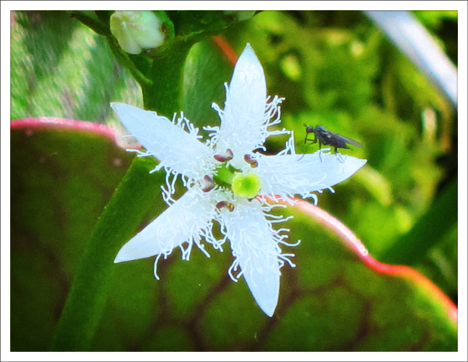 Adirondack Wildflowers: Buckbean in bloom on Barnum Bog at the Paul Smiths VIC
Buckbean (also called Bogbean) is an aquatic wildflower native to the Adirondacks. It produces clusters of star-like white flowers in spring and early summer. It is a member of the Gentian family. This plant, which grows up to about ten inches tall, flourishes in wet soil or shallow water on the edges of ponds and in marshy ground, usually in acid soils. Buckbean may be seen in bogs from Labrador to Alaska, south to Virginia, Missouri, and California.
Buckbean has been used as both a food and a medicine. In Europe, the leaves were sometimes used as a substitute for hops in beer brewing and were also boiled in honey to make mead. Powdered buckbean roots were reportedly mixed with flour as a bread additive.
Various medicinal applications of this species have been recorded. Buckbean has been used to treat many ailments, including jaundice, indigestion, skin diseases, scurvy, intestinal worms, and rheumatism. Small doses of this plant are said to impart vigor to the stomach and aid digestion. However, large doses may cause abdominal pains, nausea, and vomiting.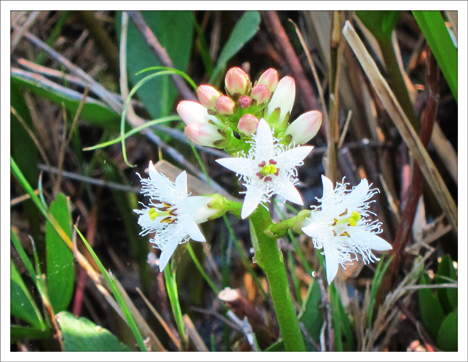 Adirondack Wildflowers: Buckbean in bloom on Barnum Bog at the Paul Smiths VIC (26 May 2012)
Buckbean may be seen at the Paul Smiths VIC in Barnum Bog, along the Boreal Life Trail boardwalk. It usually begins blooming in May.
References:
Lady Bird Johnson Wildflower Center. Native Plant Database.
United States Department of Agriculture. Plants Database.
Enature. Wildflower Field Guide.
Plants for a Future. Database.
Doug Ladd, North Woods Wildflowers (Falcon Publishing, 2001), p. 197.
Lawrence Newcomb, Newcomb's Wildflower Guide (Little Brown and Company, 1977), pp. 184-185.
Roger Tory Peterson and Margaret McKenny, A Field Guide to Wildflowers. Northeastern and North-central North America (Houghton Mifflin Company, 1968) pp. 6-7.
Donald D. Cox, A Naturalist's Guide to Wetland Plants. An Ecology for Eastern North America (Syracuse University Press, 2002), pp. 107-108.