Adirondack Wildflowers:
Bog Laurel (Kalmia polifolia)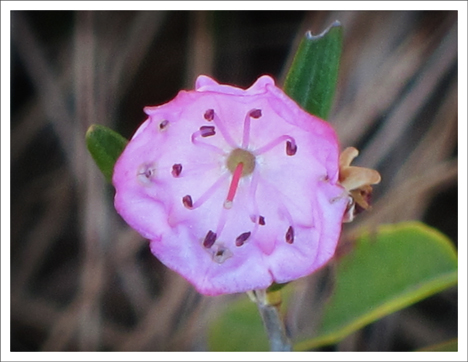 Adirondack Wildflowers: Bog Laurel on Heron Marsh (19 May 2012)
Bog Laurel (also called Swamp Laurel or Pale Laurel) is an evergreen shrub which flowers in mid-to late-spring in the Adirondack Mountains. The leaves are leathery and have smooth edges that turn downward. Bog Laurel produces clusters of small, cup-shaped pink flowers. The flowers are pollinated by bees. The flowers of the Bog Laurel are similar to those of Sheep Laurel, but the flowers of the Bog Laurel form clusters at the end of the stem. The flowers of the Sheep Laurel, by contrast, appear a few inches from the top of the stem, with newer leaves above the cluster of flowers.
Bog Laurel is highly toxic. The leaves of the plant reportedly were used as an external treatment for skin ailments.
Bog Laurel grows in bogs and tamarack swamps in the Adirondacks and throughout the region. Bog Laurel plants are found at the Paul Smiths VIC on Heron Marsh, where they may be observed from the boardwalk. They usually begin blooming in May.
References:
Lady Bird Johnson Wildflower Center. Native Plant Database.
United States Department of Agriculture. Plants Database.
Plants for a Future. Database.
Flora of North America. Plant Database.
Doug Ladd, North Woods Wildflowers (Falcon Publishing, 2001), p. 76.
Lawrence Newcomb, Newcomb's Wildflower Guide (Little Brown and Company, 1977), pp. 292-293.
Roger Tory Peterson and Margaret McKenny, A Field Guide to Wildflowers. Northeastern and North-central North America (Houghton Mifflin Company, 1968) pp. 228-229.
Donald D. Cox, A Naturalist's Guide to Wetland Plants. An Ecology for Eastern North America (Syracuse University Press, 2002), pp. 90.