Winter Wonders Art Show:
2 December 2014 - 19 January 2015
Artists' Reception: Sunday, 14 December, 2:00 - 5:00 PM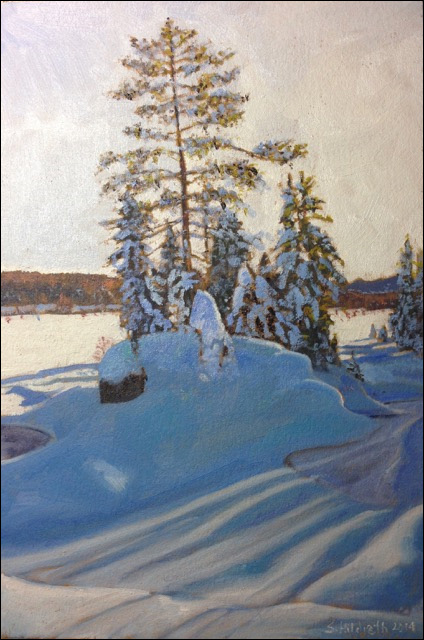 Photographers Ed Murphy and Karla Brieant and artists Suzanne Lebeda, Nancy Brossard, Joyce Hanson, Catharine Moore, and Sandra Hildreth, are exhibiting their work at the Great Room Art Gallery at the Paul Smith's College VIC from 2 December 2014 through 19 January 2015. The VIC building is open 9:00 AM - 5:00 PM. Free admission. Underwritten by Friends of the VIC. An artists' reception will be held on Sunday, 14 December from 2:00 to 5:00 PM. Meet the artists and discuss their work on a lovely Adirondack afternoon.  Light refreshments and a little musical enjoyment will be provided.  Round out your Sunday here at the VIC by enjoying a ski or snowshoe on the trails or purchasing your ski pass for this season!
Nancy Brossard works in oil with a travel paint box easel, painting on the site. She is influenced by the "Plein-Air" style of the Impressionists. She paints in all seasons and exhibits her work in juried, solo and group shows.
Sandra Hildreth started painting full time after she retired. Comfortable with both oils and watercolors, she uses whatever medium seems appropriate for what she wants to paint. Working 'en plein air' (outdoors, on location) has become her passion, although she also paints in her home studio when weather prevents outdoor work.
Suzanne Lebeda earned a Bachelor of Science in art education from Buffalo State where she also studied in Siena, Italy. She taught art K-12 before returning to graduate school for a Master of Fine Arts in graphic design and painting from Rochester Institute of  Technology. The northern Adirondack mountains and St. Lawrence River Valley region are home and the source of inspiration for her nature-based art, illustration and digital works on paper. 
Karla Brieant is a landscape/nature photographer who specializes in photographs of the Adirondack Park. She uses manual cameras and techniques; and the images seen are totally unaltered. What you see is exactly as it appeared in nature. 
Photographer Ed Murphy's images explore the natural beauty of the Northern Adirondacks, focusing on the mountains and vistas of Norman Ridge, and the flora and fauna of the Bloomingdale Bog and the Paul Smith's Visitor Interpretive Center.  His landscape photos demonstrate the dramatic visual impact of changing weather and seasons.  His work has been selected for juried art shows at the Adirondack Artists Guild and the Lake Placid Center for the Arts. His images have appeared frequently as the "photo of the day" at North Country Public Radio."
Joyce Hanson, a Duane resident, has B.A. and M.F.A. degrees and was an art instructor for nearly three decades at various educational levels, in both California and New York. Hanson initially worked exclusively in black, white and gray, mostly pastels, and alternated between abstraction and realism. Her drawings and fabric sculptures have been exhibited in juried national competitions, and she has won awards for her pastels, pencil drawings and her large lithographically printed fabric sculptures. Her recent work focuses on "plein air" pastel landscapes of nearby sites in the Adirondack Mountains.
Catharine Moore spent her early years in the Berkshires of northwestern Connecticut where she was exposed to the natural beauty of the mountains and lakes. She discovered the Adirondack Mountains and lakes shortly after college. She recently returned to the Adirondacks and its inspiring beauty and began the art of watercolor painting. Her watercolor studio is located in Coreys on the Stony Creek Ponds.
Nancy Brossard, Sandra Hildreth, and Suzanne Lebeda are members of the Adirondack Artists Guild and show their work in the Adirondack Artists' Guild Gallery, 52 Main Street, Saranac Lake (518-891-2615). Catherine Moore exhibits her work at NorthWind Fine Arts, a cooperative gallery located at 11 Woodruff Street in Saranac Lake.