New Moon Art Show: Plein Air Paint-Out
Paint-Out: 15-17 April 2016
Art Show in the VIC Great Room: 20 April - 31 May 2016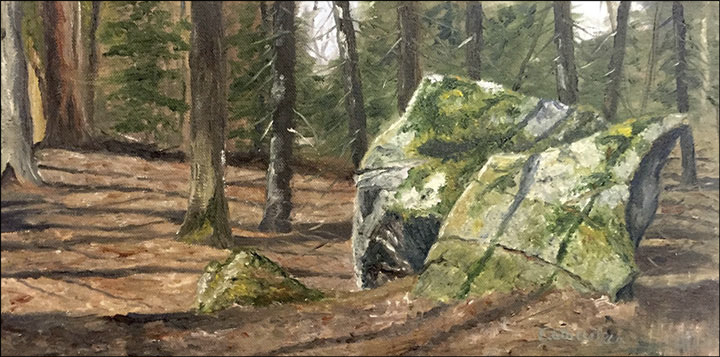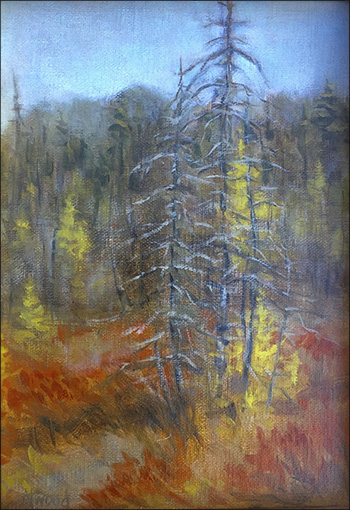 Invited Plein Air painters were out painting on the trails at the Paul Smith's College VIC from 15 to 17 April 2016. Spectators were welcome to come and watch! It was a great opportunity to meet with and talk to the artists, get some exercise, and enjoy the natural environment at the same time. The artists then framed up their wet paintings and hung the show on 20 April.
The VIC – with a variety of natural settings, including mountains, old growth forest, bogs, streams, marsh, beaver lodges, and Adirondack lean-tos – is a popular destination for both artists and photographers.
Last year, the VIC challenged local photographers to participate in a photo "shoot-out," held in late April to coincide with the 2015 Science, Art and Music Festival. The resulting photos were exhibited in the New Moon Art Show, which hung from 24 April to 17 May.
Over the 2015 Labor Day weekend, invited Plein Air painters were challenged to a "paint-out" at VIC, with the paintings exhibited at the New Moon Art Show which hung from 13 September to 12 October 2015.
In 2016, the artists were assigned the April time slot; and the photographers have been assigned the Labor Day time slot.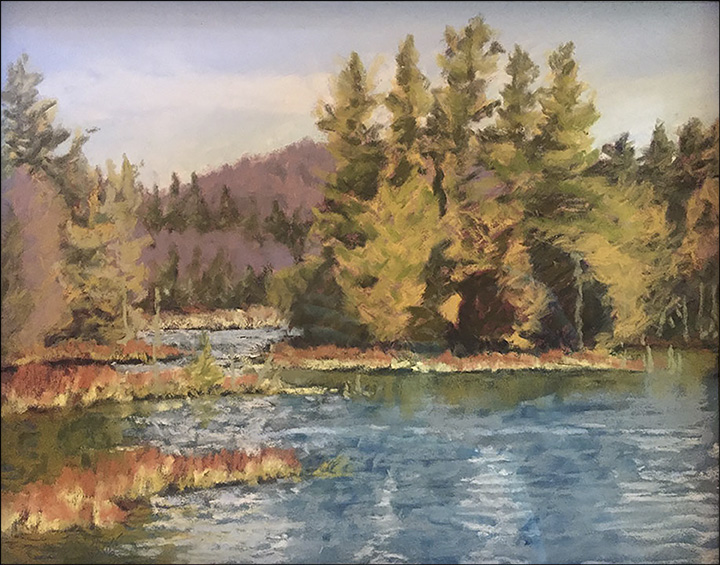 Although the VIC has miles to trails to tempt both artists and photographers, many of the most scenic views are within a mile or so of the VIC Building. This year's paint-out produced several haunting views of Heron Marsh and Saint Regis Mountain, with many artists choosing to focus on the iconic Eastern White Pine island on the Barnum Brook Trail. Other artists captured the early spring colors of Barnum Bog from the Boreal Life Trail board walk. Some of the paintings reveal the artist's fascination with the ever-changing patterns produced by sun and shadow. Other paintings highlight details along the VIC trails, concentrating on trees, rocks, or individual plants. Over half of the paintings feature water -- the still water of a pool on Heron Marsh or the moving water of Barnum Brook.
The following artists took part in the 2016 paint-out and the subsequent exhibit:
The paintings produced over the weekend will remain on exhibit for viewing and sale until May 31. Free admission.