New Moon Art Show
Designs in Nature: Larry Poole and Noreen Sadue
23 September - 22 October 2014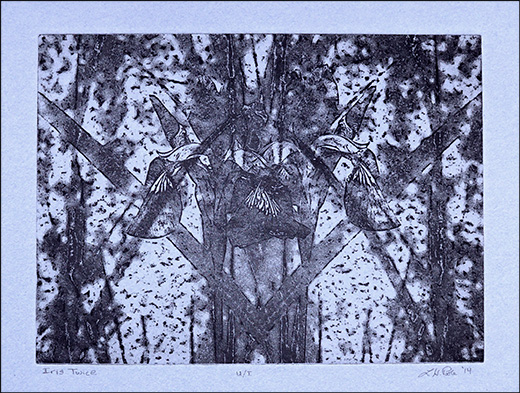 This show features works by Larry Poole and Noreen Sadue.  Their work is available for viewing and purchase during the VIC hours.
Noreen Sadue: In the Grass

Larry Poole lives and does his printmaking in Saranac Lake, NY. His involvement in printmaking began when he found himself with the opportunity to reengage in his long-standing interest in art and design by combining the relatively recent advances in non-toxic etching processes with the changes in photography to digital imagining and the "computer darkroom."  Poole's strong appreciation of black and white photography has drawn him to mostly use a single color in his work, often black. However, through various techniques including multiple plates, viscosity rolls, and chine collé he has introduced more than one color in many prints. Poole has also explored papermaking and has occasionally used hand-made paper in his art.

Noreen Sadue is a painter, photographer, graphic designer, art educator and nature lover. These strands of her life weave together to provide continuous, creative inspiration. She received a Bachelor of Fine Arts from New York Institute of Technology and a Master of Arts from Goddard College. Her work has been exhibited throughout northeastern New York and Canada. Her work in 'Designs in Nature' focuses on simple design elements to capture the visual beauty found in nature. A fondness for design is evident in much of her work, whether it's realistic or abstract. She is drawn to the simplicity of using line, color and shape to create works that reveal the subtleties in nature that are often the inspiration for her work.