New Moon Art Show:  Fall Into Color
13 October – 20 November 2015
Reception: Sunday, 25 October, 2:00 - 5:00 PM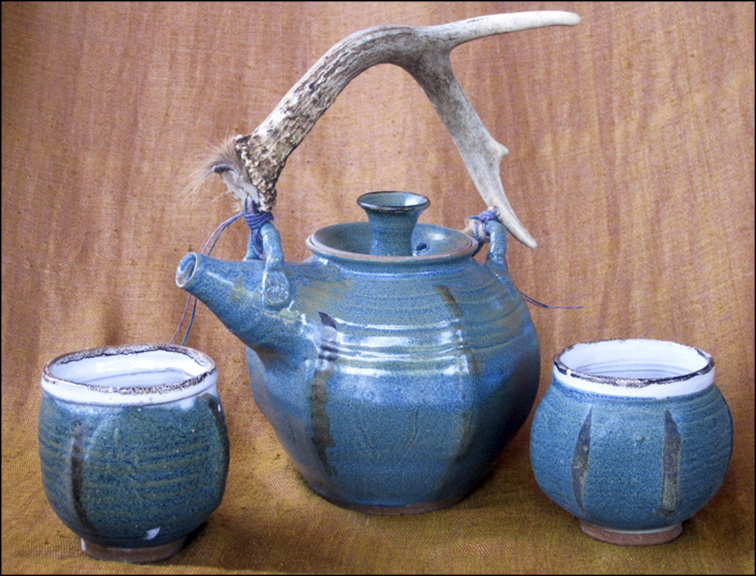 The Paul Smiths VIC is hosting a multi-artist art show featuring works that speak to the essence of fall color.  The exhibit showcases varied mediums: fabric, collage, clay, watercolor, oils, and acrylics. There will be a reception on Sunday, 25 October, from 2:00 to 5:00 PM. Ola and Carl Aldous will provide accordion and banjo music. Free admission.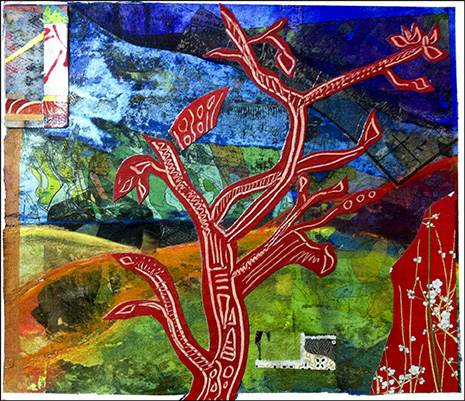 Cheryl Mirer: Red Tree -- Mixed Media Collage

Anne Burnham has been a studio potter for 40 years.  She looks closely at everything in nature, including crows. Burnham usually focuses on the wider view of flowing landscapes while maintaining an emphasis on Eastern simplicity. In this exhibit, she is concentrating more on pure color and closer views.  The seasonal beauty of the Adirondacks has inspired some of her landscape motifs. Early clay training in California, meditation studies, and natural inclination have led to a lifelong interest in Asia as well. Other inspirations have come from meditation studies and from traveling across the USA, Africa, and India.
Cheryl Mirer grew up in Burlington, CT and earned a Bachelor of Art in Fine Art and Art History in 1995 at the University of Massachusetts, Amherst. A variety of interesting career choices, ranging from teaching art in the Peace Corps, designing kitchens, managing a small library, working in development at a small college, and always, developing her own art, brought Cheryl to Boston University to earn her Master of Science in Arts Administration in 2005. She and her husband, Eric, relocated to Potsdam in 2012 from western Massachusetts, via a short stint in South Carolina, where Cheryl was the Director of an Artists-in-Residence Program. She now works at Clarkson University. Cheryl is a working artist in printmaking, painting, mixed media, and African beaded jewelry. She is passionate about the arts, local agriculture, and her community.
Ray Whalen received his M.F.A from Cranbrook Academy of Art, Michigan, BFA from SUNY Oswego and teaching certification from St. Lawrence University. He is an art educator at Parishville-Hopkinton Central School, as well as an active painter, children's book illustrator, potter, photographer, print-maker, and graphic artist. He lives in South Colton inside the Adirondack Park where he enjoys outdoor activities and family. The works he is exhibiting in this show reflect his love of color.
Sara Wexler: Leaves


Sara Wexler has been a fiber artist all her life.  She has been a lay Zen Buddhist practitioner for 47 years.   For many of those years she was the primary robe-maker for Zen Mountain Monastery and Dai Bosatsu Zendo.  Many of her current works are in the style of Buddhist Tankas.  She has lived in Ohio, Missouri, New York City, the Catskills, New Orleans, Asheville, NC and currently in Kingston, NY.  In all of these places, she and her canines explored the nature around them.  Her art reflects this. A love of music also informs her lyrical stitches.
Irja Bodén: "The works in this show revisit a trail ride my horse and I did in the Adirondack Park.  There was sun, leaves, flowers, water, clouds, shadows and a feeling of oneness with it all.  I enjoy reclaiming materials and combining differing media and methods, so here I've used collage, clay and an old wood panel."
Romi Sebald's training is in fine arts, but has found herself increasingly drawn to traditional primitive crafts (especially those which pioneering families practiced for practical reasons): recycling worn clothing to make rugs and blankets, stuffing rag dolls with sawdust, and using what they found in nature. Many of these arts were taught to her by her grandmothers. Her work also reflects her strong connection to the forest and mountains as so many generations of her family have lived in the Adirondacks. Her most recent works combine traditional methods with the whimsical and the bizarre.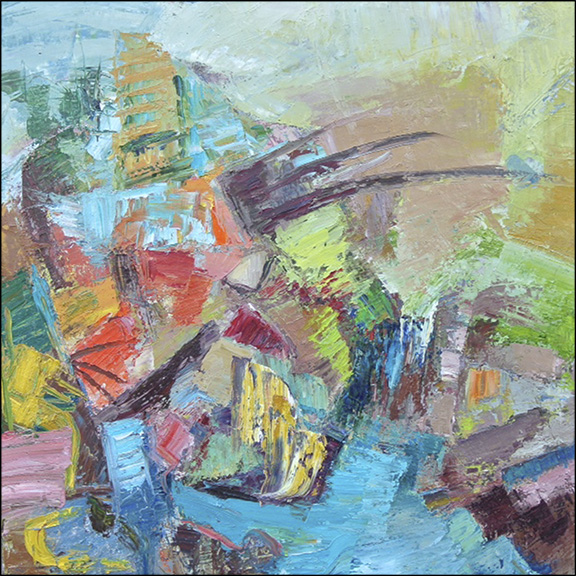 Ola Aldous: Abstract

Ola Aldous began training as a classical pianist in Ukraine, before immigrating to the USA at the age of ten. She received the BM in piano performance from Crane School of Music in 2005, and her BFA in visual art concentration in painting from SUNY Potsdam in 2013. Her work is rooted in the abstract, reflecting how forms and colors evolve without being overly defined. In some paintings, she directly interacts with the landscape, allowing the act of painting to dominate, rather than submit to the "actual" reality. In some landscapes, she steers away from "reality" all together and focuses on something that becomes an internal landscape. The internal landscape is undefined and yet familiar, as if in a dream or a memory.
Nina Holland has taught at both SUNY Plattsburgh and North Country Community College.  For the last ten years she has been living in Camden, Maine. Although trained as a painter, she has taken many side trips in the visual art world including weaving and mechanical sculptures; she has also played with clay.  The works on display reflect experiments with rice and various organic papers, which gives a slightly textured and absorbent surface, resulting in a matte finish. Watercolor is the principal media, but occasionally clorox and collage add to the image. Her work has been exhibited throughout the United States, including five venues in New York City.  She currently lives in Camden, Maine.