New Moon Show:
Adirondack Mountains and Waters
28 April - 27 May 2014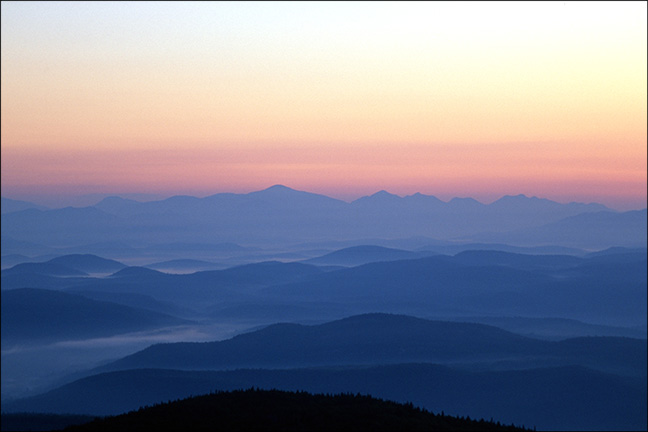 Photograph by Rob MarronePhotographer Rob Marrone and his son, artist Dan Marrone, will exhibit their works in the Great Room Art Gallery from 28 April through 27 May. The show will include scenic framed and mounted photos and some works of local lakes painted on birch bark.   Identify the location from where the picture, "Sunrise," was taken for your chance to win the photograph. Drawing takes place May 27th.
Rob Marrone is a retired forest ranger and alumni of Paul Smiths College.  He became interested in photography while guiding and assisting National Geographic photographer Maria Stenzel while she was doing a story in the Catskills, and then again in the  Adirondacks. This connection was the start of 20 plus years of capturing scenic images from the mountain tops and waterways. His work has won numerous awards and has been displayed in calendars, magazines, books, postcards, and promotional literature.
Dan Marrone has a bachelor degree in art from Daemen College where he graduated with honors.  One of his large 9ft paintings was purchased by the college for permanent  display in the student union building of the school. His work has also been displayed on CD covers and on websites.  Locally, his paintings were featured in a show at the Saranac Lake Library.  His artistic passion is in abstract art, but for this show he will display works of local lakes painted on birch bark. 
The exhibit will run from 28 April - 27 May. Free admission. Underwritten by Friends of the VIC.
List of Works Exhibited

Title

Taken From

Sunrise (mystery photo)

??????   

Long Lake (birch bark painting)

Dawn from Mt. Fredericka 

Lake Lila     

St. Regis Lake (birch bark painting)

Barstow's Boat 

Long Pond     

Cascades   

Pitchoff    

Lake Placid (birch bark painting)

Fall Colors   

Mt. VanHovenburg   

Taylor Pond   

Taylor Pond     

Lake Lila (birch bark painting)

Sunrise Lake Lila  

Lake Lila     

Black Water Wonder  

Saranac River    

Sunrise over Whiteface 

St. Regis Mt.    

Morning Light on Whiteface

Whiteface Mt.    

Pastel Morning  

St Regis Mt.     .    

Evening Light  

Whiteface

Raquette Lake (birch bark painting)

Canada Island  

Lake Lila     

September Morning 

South Meadow    

Shingle Shanty Brook Outlet

Lake Lila     

Algonquin   

Phelps    

Elk Lake (birch bark painting)    

Tamarack    

South Meadow    

Lake Lila   

Lake Lila     

Sunset from Blue Mt. 

Blue Mt.     

1H9 Over Saranac  

Lower Saranac Lake  

Bog River Sunset  

Bog River