New Moon Art Show: Adirondack Artists' Guild Group Show – Not Winter
20 March - 16 April 2015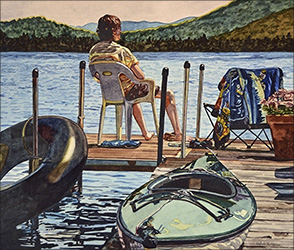 Valerie Patterson: On the Dock
Watercolor on Paper
This show features works by the members of the Saranac Lake-based Adirondack Artists' Guild. Their work will be available in the VIC Great Room for viewing and purchase during the VIC hours. The artwork on display will feature many different media, styles, and subjects, but there will be no depictions of winter. The exhibit will hang from 20 March through 16 April 2015. Free admission.
Jacqueline Altman does florals and Adirondack landscapes. In selecting a subject to paint, the artist is guided by her sense of color, light, and composition. She often paints directly from the subject, capturing the rhythm, patterns, and movement created by the lighting situation. 
Artist Meg Bernstein produces complex images in vibrant colors. Her acrylic and mixed media paintings reflect her fascination with color and shape.
Nancy Brossard works in oil with a travel paint box easel, painting on the site. She paints in the Plein Air style similar to the impressionist painters of the 19th century. Her love of the Adirondacks, its woods and waters, is evident in her work.
Jeanne Danforth's art springs from an overwhelming compulsion for tactile exploration. She usually works in watercolor, oil, pastel, pen & ink, or acrylic, exploring the diverse lives our north country offers.   
Georgeanne Gaffney creates paintings in multiple subject matters ranging from portraits to landscapes. Working from photographs that are a "snap shot of a moment in time," her pieces translate intimate observations expressed in subtle shadows and dappled light.
Sandra Hildreth started painting full time after she retired. Comfortable with both oils and watercolors, she uses whatever medium seems appropriate for what she wants to paint. Working 'en plein air' (outdoors, on location) has become her passion, although she also paints in her home studio when weather prevents outdoor work.
Suzanne Lebeda creates watercolors, acrylics, and mixed media drawings. The northern Adirondack mountains and St. Lawrence River Valley region are home and the source of inspiration for her nature-based art, illustration and digital works on paper.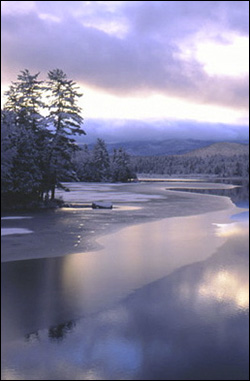 Barry Lobdell: Second Pond

Photographer Barry Lobdell produces fine art photography of natural and cultural landscapes. His subject matter is often the natural landscape, particularly the Adirondack Mountain region of northern New York, but he is also intrigued by the cultural landscape, in which man and his creations become the subjects.
Photographer Burdette Parks specializes in fine art landscape/nature work. He has lived in the Adirondacks since 1990 with his wife Fran Yardley operating RoundLake Studios—focusing on the visual and performing arts.
Valerie Patterson's water color paintings provoke action, thought, and a feeling of commonality. Her body of work not only chronicles her life, but the world that we all live in. 
Mary Lou Reid produces wheel and hand-built ceramics in her studio in Saranac Lake. Much of her work is inspired by the patterns and designs found in nature.
Toos Roozen-Evans produces jewelry which blends semi-precious stones and copper to achieve an organic look.  She enjoys the flexibility of copper and continually experiments with soldering, shaping, and burning techniques. 
Photographer Eleanor Sweeney makes digital transfers on metal, paper, wood, and fabric, as well as traditional photographic prints. Her eye is often drawn to small, ordinary things, which she likes to manipulate a bit.
Ursula Trudeau creates acrylic paintings in a contemporary style. Extensive traveling has offered her a wide variety of freelance commercial art work including visualization, fashion illustration, hand painted billboards, costume and set designing for both theatre and television, window displays, child portraiture, and textile designing. 
Ken Wiley creates acrylic and watercolor paintings emphasizing design and technique. His paintings explore a wide variety of subjects, including landscapes, still life, buildings, and animals.
All exhibitors are members of the Adirondack Artists' Guild in Saranac Lake, New York. The Adirondack Artists' Guild is a cooperative retail art gallery representing a diverse group of regional artists living and working in the Tri-Lakes area of the Adirondack Park. The gallery is located at 52 Main Street in Saranac Lake, 518-891-2615.