New Moon Art Show: Mostly Landscapes
Nancy Brossard and Eleanor Sweeney
18 February - 16 March 2015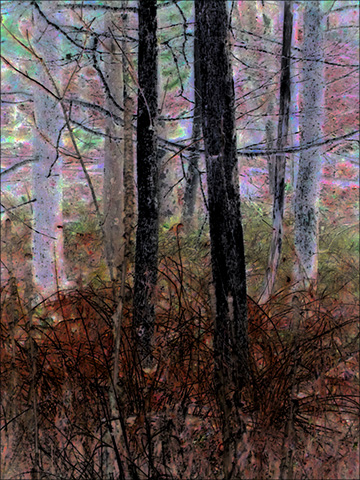 Eleanor Sweeney: Autumn Leaves
This show features works by Nancy Brossard and Eleanor Sweeney.  Their work will be available in the VIC Great Room for viewing and purchase during the VIC hours. The exhibit will hang from 18 February through 16 March 2015. Free admission.
Artist Nancy Brossard works in oil with a travel paint box easel, painting on the site. Born and raised in Milwaukee, Wisconsin, Brossard moved to the Adirondacks in 1985. She studied at the University of Wisconsin-Madison and Milwaukee. She paints in the Plein Air style similar to the impressionist painters of the 19th century. Nancy begins each of her landscape paintings outdoors on site and completes them in her home studio. Her love of the Adirondacks, its woods and waters, is evident in her work. She paints in all seasons and exhibits her work in juried, solo, and group shows.
Photographer Eleanor Sweeney makes digital transfers on metal, paper, wood and fabric, as well as traditional photographic prints. Her eye is often drawn to small, ordinary things, which she likes to manipulate a bit. Many of the works she is exhibiting in this show are of trees. Several of the photographs were taken at the VIC. Others were taken of scenes elsewhere, of places that have captured her eye on her travels around the country.
Both exhibitors are members of the Adirondack Artists' Guild in Saranac Lake, New York. The Adirondack Artists' Guild is a cooperative retail art gallery representing a diverse group of regional artists living and working in the Tri-Lakes area of the Adirondack Park. The gallery is located at 52 Main Street in Saranac Lake, 518-891-2615.