Birds of a Feather Invitational Art Show and Sale
1 June - 2 July 2016
Artists Reception: Saturday, 4 June 2016, 2:00 - 5:00 PM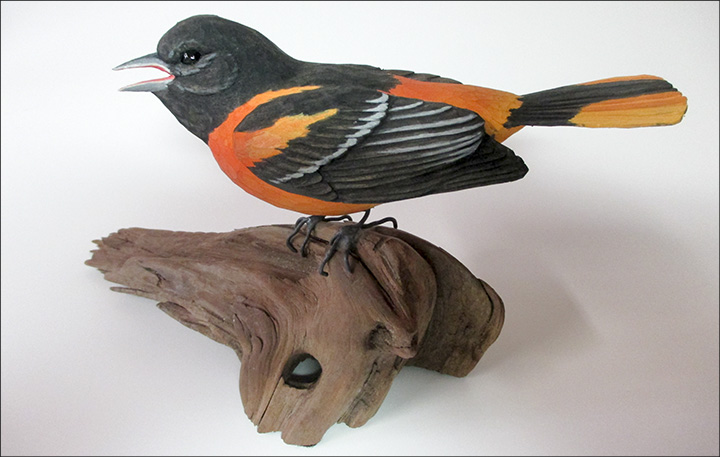 Slideshow: 2016 Birds of a Feather Invitational Art Show and Sale
Birds have always been considered subject matter for artists, probably going back to prehistoric art on cave walls, perhaps because they can "magically" fly or because of the seemingly infinite number of varieties. Each year a group of regional artists are invited to submit artwork with birds as the subject matter for an art exhibit timed to coincide with the Great Adirondack Birding Festival, which is held at the VIC during the first weekend in June.
The 2016 exhibit will features works by the following artists and photographers:
Wood carver Allen Aardsma started carving when he was nine years old, living in Parishville, NY. His first solo bird carving was a Goldfinch. Of the more than two-thousand birds and animals he has carved since then, the majority of them have been Pocketknife carvings. The rest were "power-tool carvings", shaped by using an electric Foredom, a variety of grinding and sanding bits, and a wood burner. "Every time I carve and paint a bird or animal, my appreciation for woodcarving - and especially for the One who originally designed and created these incredibly beautiful creatures - increases."


Artist Meg Bernstein produces complex images in vibrant colors. "Color and shape are my primary artistic concerns. I love a broad palette and like to see many choices in front of me when I work. I also enjoy working expressively with brush strokes. My digital work is done in layers, with sometimes as many as 30 or 40 superimposed images."


Karla Brieant is a landscape/nature photographer who specializes in photographs of the Adirondack Park. She uses manual cameras and techniques; and the images seen are totally unaltered. What you see is exactly as it appeared in nature. Her work is on display at Cape Air in Saranac Lake.

Jon Chodat's photographs display an acute level of observation, from a hummingbird hovering within the flashy red of a monarda flower to the stillness of the Great Blue Heron waiting for dinner in the reflected gold of an autumn river. Chodat says of his work: "My work is what I have a passion for."

Carving by Shawn Halperin: Nuthatch
2016 Birds of a Feather Invitational Art Show


Artist Shawn Halperin was the Best in Show winner of "Life on the Lakes" in 2012 and Juror for "Life on the Lakes" in 2014. She graduated with a BFA from Syracuse University and has been a working artist in the region for the past 15 years. She also teaches Studio Art classes at Paul Smiths College. Her works include carvings in cedar and birch, mixed media collage, and oil on canvas. She is represented at the LPCA Main Street Gallery in Lake Placid and has work on display at Cape Air in Saranac Lake.  A broad range of her work can be seen at: www.shawnlewishalperin.com.

Russ Hartung's main interest is landscape and nature photography. His favorite landscape and natural subject is the Adirondacks – an interest which began when he came to the area for Boy Scout camp as a kid and continued with family vacations on Lake Champlain. His work is on display at Cape Air in Saranac Lake.

Born and raised in Richmond, VA, Anne Hughes has spent every summer of her life just north of Paul Smiths in the Adirondacks.  Her passion for all things natural – and the desire to "create" using nature's treasures as her medium – stemmed from countless hours spent in the woods and walking along the roadsides.  With no formal art training, Anne creates unique compositions using ordinary common place things found in nature.  "To find the unexpected beauty of anything natural …… and to take them and compose something creative and unique - that is what excites me the most.  That is my true passion. And I believe there is no better place on Earth to pursue my passion than right here in the Adirondacks."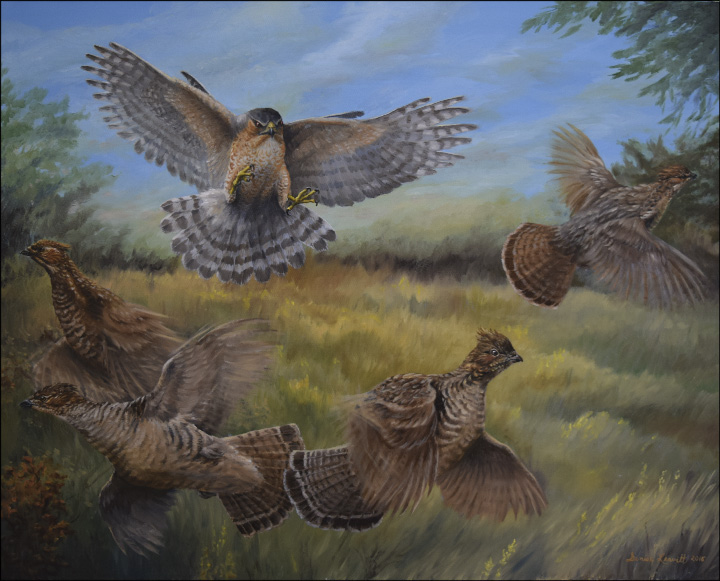 Painting by Denise Leavitt.
2016 Birds of a Feather Invitational Art Show
Artist Denise Leavitt creates finely-detailed and intricately-crafted acrylic and paintings featuring birds. Her work has been exhibited in Giant Mountain Studio in Schroon Lake, the Adirondack Artists Guild Gallery in Saranac Lake, the Lake Placid Center for the Arts, and other North Country venues. She lives in Schuyler Falls, New York.

Metal Sculptor Merrell Leavitt works mainly in copper. His work features pieces as diverse as furniture, sculpture, and fine jewelry. His subjects are drawn from nature and skillfully made into beautiful works of art. 

Artist Gail McKay specializes in acrylic paintings. She finds inspiration in the light and composition of Adirondack vistas from her photos taken mostly while paddling in her Hornbeck canoe.  Her work is on display at Cape Air in Saranac Lake.

Wood carver Mark Paul crafts accurately-detailed, painted figures of birds and other animals. His Mountain Farm Studio is located in Sugar Bush, New York.  His work is on display at Cape Air in Saranac Lake.

Photographer Susan Runyon fell in love with nature photography during a visit to the Adirondacks. Her framed photographs have been selected for juried art shows at the Lake Placid Center for the Arts, the Adirondack Artists' Guild, and Northwinds Fine Arts in Saranac Lake. Her matted photographs and notecards have been sold in dozens of stores throughout the Adirondacks.

Cris Winters: Oriole
2016 Birds of a Feather Invitational Art Show


Lee Ann Sporn is a biology professor at Paul Smith's College, who spends lots of time with paint and pencils rendering local flora and fauna in a scientific, illustrative style  She is a founding member of NorthWind Fine Arts gallery in Saranac Lake, and presented a show last fall with Catharine Moore, "Bird in Hand".  She hasn't stopped drawing birds since!


Edith Urban does Adirondack oil landscape paintings, one-of-a-kind handbags and totes, hand-made quilts, jointed Teddy Bears, hand-painted pillows, and needle-felted wool animal sculptures. "After studying under Raymond Jackman, I began painting seriously in 1981. My lifelong experiences living in the Adirondacks have been my inspiration."  Her work is on display at Cape Air in Saranac Lake.


Cris Winters works in mixed media, fiber collage, and watercolor. She combines her interest in art with birding and wilderness paddling. Cris now has her own gallery "Art at the Pink House" located at 25 Woodruff Street in Saranac Lake.
The 2016 Birds of a Feather Invitational will hang at the Paul Smith's College VIC from 1 June 2016 through 2 July 2016. An artists reception will be held Saturday, 4 June 2016, 2:00 - 5:00 PM. Free.