Art Exhibit: Full Circle
22 June 2012
6:00 - 8:00 PM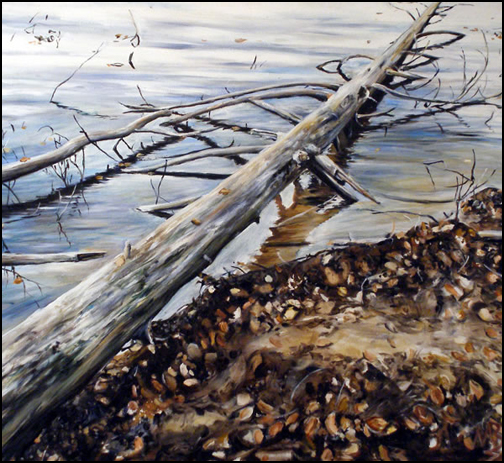 Painting by Matt Burnett
The Paul Smith's VIC summer season will be opening with two veteran artists from Saranac Lake. The joint exhibition by artists Tim Fortune and Matt Burnett will show an evolution and dialogue between the two artists going back nearly two decades, when Fortune introduced Burnett to oil painting.
Included in this exhibition is a set of outdoor murals created by Matt Burnett. The outdoor exhibition, which begins at the turn on the summer solstice, will remain on the VIC's outer walls for four seasons, an entire year. Burnett has been experimenting with outdoor works now for several years. His recent installations include 2008's Community Spiral (an ice labyrinth illuminated with candles) and 2011's E-lumination (a series of snow spheres with projected forms and video): "All of my work is based on the concept of nature and outdoor experiences, so the outdoor gallery makes sense."


Tim Fortune has been concentrating on his Adirondack series of large scale watercolors for the past several years. They are a bold departure from his previous work and create an intense presence often mirrored by our intimate encounters with nature. "My intent is to capture the riveting, often solitary, moments that create a spiritual resonance for the viewer." Also included in the exhibition with be a selection of small oil paintings.
The opening reception will take place on 22 June from 6:00 - 8:00 PM at the Paul Smiths VIC building. There will be refreshments and a cash bar.
Matt Burnett is a native of the Adirondacks, growing up in what is now the William C. Whitney Wilderness Area. His interests in painting and environmental conservation have combined into his current practice, using various materials and processes to illuminate the wilderness experience. Burnett is an Assistant Professor at SUNY Canton, where he teaches in the Graphic and Multimedia Design Program; and he has also worked for many years for the DEC as an Assistant Forest Ranger. His work has been exhibited in regional and international exhibitions. He currently lives in Saranac Lake with his wife, Amy.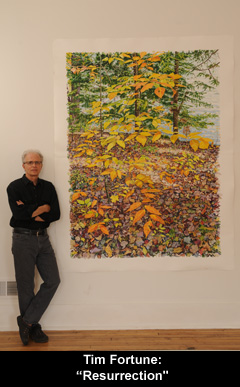 Born and raised in the heart of the Adirondack Mountains of northern New York, Tim Fortune studied art at Tyler School of Art of Temple University where he received a BFA. He later graduated from New York University with a Master of Arts degree in Studio Art and subsequently studied in Italy for several years. For the past thirty years he has pursued his career in Florida and New York.
Mr. Fortune's works have been shown at numerous galleries, both nationally and internationally. Several of his pieces are included in corporate collections. His works have been exhibited in the American Embassy in Guatemala as part of the Art in Embassies Program of the U. S. Department of State. He has won numerous awards including the prestigious Annual Exhibition of Contemporary American Painting at the Society of the Four Arts, Palm Beach. Fortune's work is also represented in the permanent collection of the Adirondack Museum in Blue Mountain Lake, New York.