Plein Air Art:
Views at the VIC
17 August - 14 September 2012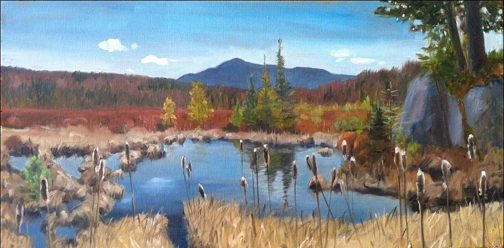 This art exhibit features works by Nancy Brossard and Sandra Hildreth. All the paintings were done outdoors, on location, on the VIC property. The exhibit will run through 14 September.
Sandra Hildreth started painting full time after she retired. Comfortable with both oils and watercolors, she uses whatever medium seems appropriate for what she wants to paint. Working 'en plein air' (outdoors, on location) has become her passion although she also paints in her home studio when weather prevents outdoor work. Her paintings can be found in the Adirondack Artists' Guild Gallery, 52 Main St., Saranac Lake (518-891-2615) and in regional as well as national juried shows.


Nancy Brossard works in oil with a travel paint box easel, painting on the site and is influenced by the "Plein-Air" style of the Impressionists. She paints in all seasons and exhibits her work in juried, solo and group shows.