Adirondack Wildflowers:
Roundleaf Sundew (Drosera rotundifolia L.)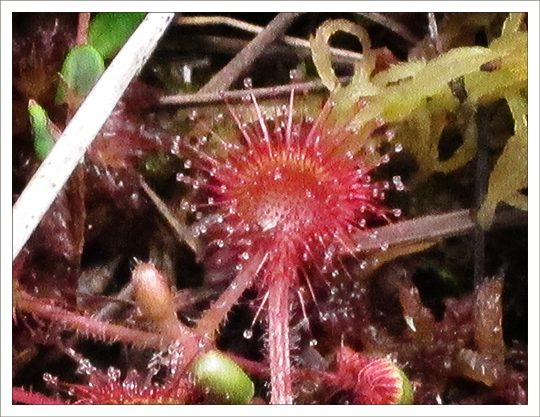 Roundleaf Sundew (Drosera rotundifolia L.) is tiny insectivorous wildflower which grows in acidic wetlands, in bogs, swamps, and peaty marshes in the Adirondack Mountains and throughout New York State. It produces very small white flowers in summer. The plant is self-fertile. The term "droseros" is Greek for "dewy" and refers to the moist, glistening drops on the leaves, to which small organisms stick; the term "rodundifolia" comes from the Latin, meaning "round leaves." A similar species - Spatulate-leaved Sundew (Drosera intermedia) - has spoon-shaped flowers and its leaf stalks lack hairs.
The Roundleaf Sundew is among a specialized group of bog plants that trap insects. Like other plants, the Sundew carries on photosynthesis, but supplements its nutrition by capturing and digesting small insects. The upper surfaces of the Sundew's leaves are covered with reddish hairs tipped with a sweet, sticky substance which attracts insects. When a gnat or other small insect is trapped on the sticky hairs of the leaf, the leaf slowly folds over and the plant then exudes a digestive fluid enabling it to absorb most of the insect into its system. This allows the Sundew to survive on nutrient-poor soils where other plants are at a disadvantage. One theory is that this practice evolved in response to mineral deficiencies in bogs. In a bog habitat, decomposition is very slow and there is a chronic shortage of mineral nutrients.
The Sundew occurs in wetland communities of New York and the eastern United States, growing in bogs, shallows and peaty ditches. The plant may be an important food source for bog-dwelling ants, who reportedly scavenge up to two-thirds of the prey caught by the plant.
The juice of the plant reportedly can be used to curdle milk. The Sundew has a long history of herbal use and has been used to make homeopathic remedies for warts and respiratory ailments, such as chronic bronchitis and asthma.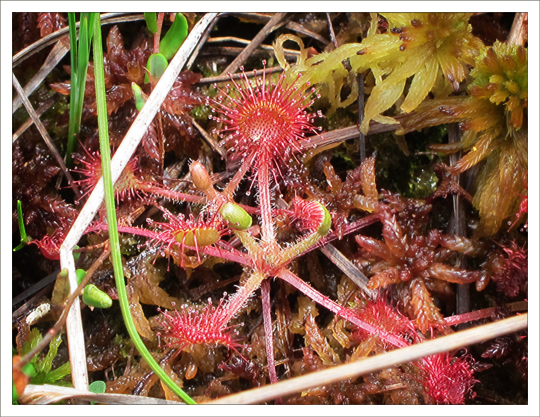 Adirondack Wildflowers: Roundleaf Sundew on Barnum Bog at the Paul Smiths VIC (28 July 2012)
Roundleaf Sundew grows on Barnum Bog at the Paul Smiths VIC and may be viewed from the boardwalk on the Boreal Life Trail.
References
Lady Bird Johnson Wildflower Center. Native Plant Database.
United States Department of Agriculture. Plants Database.
University of Michigan. Native American Ethnobotany. A Database of Foods, Drugs, Dyes and Fibers of Native American Peoples, Derived from Plants.
The New York Botanical Garden. The C. V. Starr Virtual Herbarium.
NatureServe Explorer. Online Encyclopedia of Life.
Plants for a Future. Database.
University of Wisconsin. Robert W. Freckmann Herbarium.
USDA Forest Service. Database.
ENature. Database.
Doug Ladd. North Woods Wildflowers (Falcon Publishing, 2001), p. 181.
Lawrence Newcomb. Newcomb's Wildflower Guide (Little Brown and Company, 1977), pp. 174-175.
Roger Tory Peterson and Margaret McKenny. A Field Guide to Wildflowers. Northeastern and North-central North America (Houghton Mifflin Company, 1968) pp. 100-101.
National Audubon Society. Field Guide to Wildflowers. Eastern Region. (Alfred A. Knopf, 2001), pp. 640-641.
William K. Chapman, et al. Wildflowers of New York in Color (Syracuse University Press, 1998), pp. 8.
Donald D. Cox. A Naturalist's Guide to Wetland Plants. An Ecology for Eastern North America (Syracuse University Press, 2002), p. 16, 87-88.
Meiyin Wu and Dennis Kalma. Wetland Plants of the Adirondacks. Herbaceous Plants and Aquatic Plants (Trafford Publishing, 2010), p. 48.
Anne McGrath. Wildflowers of the Adirondacks. (EarthWords, 1981, 2000), p. 16.