Adirondack Wildflowers:
Queen Anne's Lace (Daucus carota )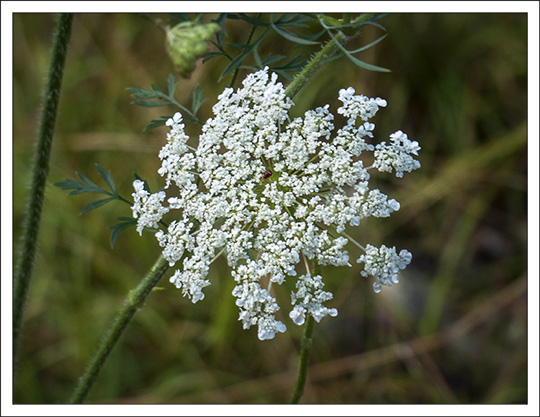 Queen Anne's Lace (Daucus carota) is a nonnative plant that produces a flat cluster of tiny white flowers in the Adirondack Mountains in summer. Its white flowers have five petals and are arranged in a 3 to 5 inch cluster. The edge flowers may be enlarged and sometimes irregular. It generally blooms from June to September in the Adirondack Park. The leaves of the Queen Anne's Lace are compound and fern-like, up to ten inches long. The leaflets are divided into narrow segments, resembling parsley, but finer. The main stem is typically hairy. The plant has a white tap root. It grows from 12 to 40 inches high.
Queen Anne's Lace is a member of the Carrot Family (Apiaceae). It is also known as Wild Carrot and Bird's Nest. The latter name refers to the fact that, when mature, the umbrella-like cluster curls inward, resembling a bird's nest. The vegetable carrot was bred from this plant.
Queen Anne's Lace is not native to the Adirondacks. It was introduced from Europe as a medicinal plant. Queen Anne's Lace has naturalized and is ecologically invasive. This plant is classified as a noxious weed by USDA. It is a seen as a threat to recovering grasslands and prairies. Although Queen Anne's Lace has been used for medicinal purposes by several native American tribes, this plant is considered hazardous and may be mildly to severely toxic to animals or humans. The leaves, especially when wet, may cause skin irritation in some individuals.
Queen Anne's Lace grows in dry, sunny areas and disturbed sites, roadsides, open fields, and woodland edges. It can be found throughout the lower forty-eight states, as well as the southern provinces of Canada. At the Paul Smiths VIC, Queen Anne's Lace may be seen in mostly sunny areas, such as the open sections of the Esker Trail, Silvi Trail, and Skidder Trail; the upper section of the Jenkins Mountain Trail; and the open, western sections of the Woods and Waters Trail and Logger's Loop Trail. Queen Anne's Lace usually blooms in this part of the Adirondack Park from late June through late August or early September, depending on the weather.
References
United States Department of Agriculture. Plants Database.
University of Michigan. Native American Ethnobotany. A Database of Foods, Drugs, Dyes and Fibers of Native American Peoples, Derived from Plants.
NatureServe Explorer. Online Encyclopedia of Life.
Plants for a Future. Database.
University of Wisconsin. Robert W. Freckmann Herbarium.
Connecticut Wildflowers. Wildflower Guide.
New York Flora Association. New York Flora Atlas.
ENature. Wildflower Field Guide.
Minnesota Wildflowers. Database.
Lawrence Newcomb. Newcomb's Wildflower Guide (Little Brown and Company, 1977), pp. 286-287.
Roger Tory Peterson and Margaret McKenny. A Field Guide to Wildflowers. Northeastern and North-central North America (Houghton Mifflin Company, 1968) pp. 48-49.
National Audubon Society. Field Guide to Wildflowers. Eastern Region. (Alfred A. Knopf, 2001), pp. 340-341.
William K. Chapman, et al. Wildflowers of New York in Color (Syracuse University Press, 1998), pp. 18-19.
Anne McGrath. Wildflowers of the Adirondacks (EarthWords, 1981, 2000), p. 20, Plate 10.