Adirondack Wildflowers:
Northern Club-spur Orchis (Platanthera clavellata )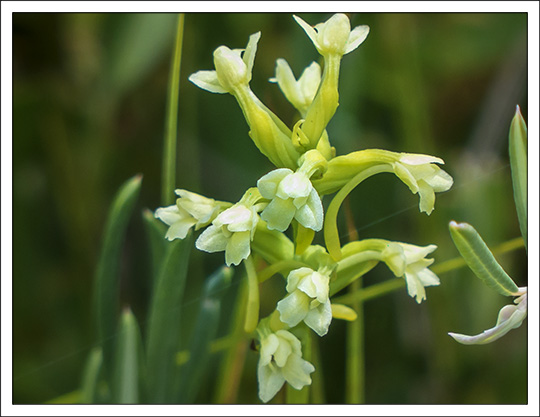 Northern Club-spur Orchis (Platanthera clavellata) is a native wetland plant that produces small greenish-white flowers in the Adirondack Mountains in the summer. The plant grows 6-16 inches tall. The greenish-white or yellowish-white flowers are 1/4 inches wide, and twisted along the stalk. The spur is very long, slender, and curved.
Northern Club-spur Orchis is a member of the Orchid (Orchidaceae) Family. The genus name -- Platanthera -- is from the Greek for "flat" and "flower." The species name -- clavellata -- is from clava, meaning means club-like. The plant is also known as Club-spur Orchid, Little Club-spur Orchid, Small Green Fringed Orchid, Small Green Wood Orchid, Small Green Woodland Orchid, and Small Woodland Orchid. This plant is sometimes listed in field guides as Habenaria clavellata.
Northern Club-spur Orchis grows in wet situations, including acid bogs, wet woods, damp woods, and shores. It can be found throughout the eastern part of the US and Canada, including New York State. At the Paul Smiths VIC, Northern Club-spur Orchis may be seen from the boardwalk across Barnum Bog on the Boreal Life Trail. In our part of the Adirondacks, this plant blooms in summer, generally in late July or early August.
References
Lady Bird Johnson Wildflower Center. Native Plant Database.
United States Department of Agriculture. Plants Database.
NatureServe Explorer. Online Encyclopedia of Life.
University of Wisconsin. Robert W. Freckmann Herbarium.
Connecticut Wildflowers. Wildflower Guide.
New York Flora Association. New York Flora Atlas.
Doug Ladd. North Woods Wildflowers (Falcon Publishing, 2001), p. 243.
Lawrence Newcomb. Newcomb's Wildflower Guide (Little Brown and Company, 1977), pp. 44-45.
Roger Tory Peterson and Margaret McKenny. A Field Guide to Wildflowers. Northeastern and North-central North America (Houghton Mifflin Company, 1968) pp. 16-17.
National Audubon Society. Field Guide to Wildflowers. Eastern Region. (Alfred A. Knopf, 2001), p. 661.
William K. Chapman. Orchids of the Northeast: A Field Guide (Syracuse University Press, 1997), pp. 159-160.
Steven Clemants and Carol Gracie. Wildflowers in the Field and Forest: A Field Guide to the Northeastern United States (Oxford University Press, 2006), p. 248.