Adirondack Wildflowers:
Indian Cucumber-root (Medeola virginiana)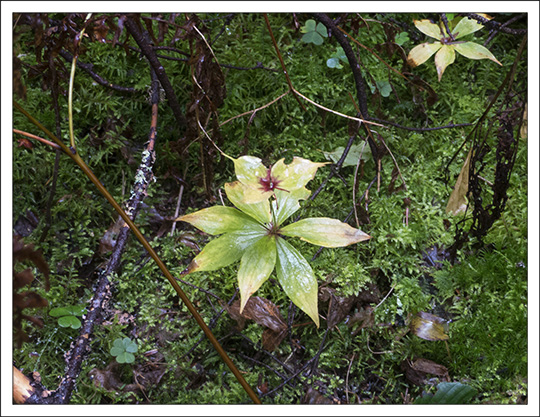 Indian Cucumber-root (Medeola virginiana) is a native wildflower that produces small, greenish-yellow flowers in spring. It grows in moist woodlands at the Paul Smiths VIC and other locations in the Adirondack Mountains and upstate New York.
The inconspicuous flowers emerge from the center of a whorl of three leaves at the top of a slender, woolly stem. The flowers are 1/2 inch wide and appear on stalks that sometimes bend down below the leaves. The flowers have petal-like segments with turn backward. The flowers are hermaphrodite (have both male and female organs). The flowers are followed (usually in early fall) by berries, which eventually turn bluish-purple. The root of the Indian Cucumber-root is white, with a brittle texture.
Indian Cucumber-root grows one to two feet tall and has hairy, unbranched stems. The leaves are whorled and lance-like. Plants that are going to flower have two tiers of leaves, with a lower whorl of five to eleven leaves and an upper whorl overhanging the flowers. Plants which are not blooming in a given year have only the lower tier. The foliage of the one-tiered plants resemble Starflowers. However, the veins of the Starflower radiate from the tip of the stalk, while those of the Indian Cucumber-root are parallel.
Indian Cucumber-root is a member of the Lily (Liliaceae) family. The common name stems from the fact that the root tastes and smells somewhat like a cucumber and was used for food by native Americans. The plant is now quite scarce. The plant is also known as Indian Cucumber.
Indian Cucumber-root has been used for medicinal purposes. The Iroquois reportedly used an infusion of the crushed dried berries and leaves to treat convulsions in infants. The root is said to be diuretic.
Indian Cucumber-root grows in shade or partial shade in rich soil in moist woods or on the margins of swamps and bogs. It can be found in the eastern half of the US and Canada, including New York State.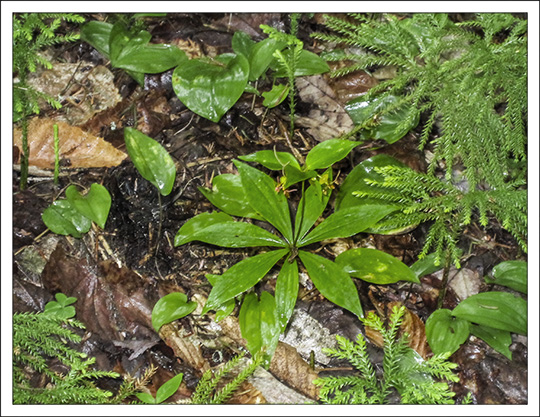 At the Paul Smiths VIC, Indian Cucumber-root may be seen along the Boreal Life Trail. It usually blooms in this part of the Adirondack Park in late May or early June, depending on the weather.
References
Lady Bird Johnson Wildflower Center. Native Plant Database.
United States Department of Agriculture. Plants Database.
University of Michigan. Native American Ethnobotany. A Database of Foods, Drugs, Dyes and Fibers of Native American Peoples, Derived from Plants.
NatureServe Explorer. Online Encyclopedia of Life.
Plants for a Future. Database.
University of Wisconsin. Robert W. Freckmann Herbarium.
Connecticut Wildflowers. Wildflower Guide.
New York Flora Association. New York Flora Atlas.
Ruth Schottman. Trailside Notes: A Naturalist's Companion to Adirondack Plants (Adirondack Mountain Club, 1998), pp. 69-72.
Doug Ladd. North Woods Wildflowers (Falcon Publishing, 2001), p. 239.
Lawrence Newcomb. Newcomb's Wildflower Guide (Little Brown and Company, 1977), pp. 352-353.
Roger Tory Peterson and Margaret McKenny. A Field Guide to Wildflowers. Northeastern and North-central North America (Houghton Mifflin Company, 1968) pp. 102-103.
National Audubon Society. Field Guide to Wildflowers. Eastern Region. (Alfred A. Knopf, 2001), pp. 609-610.
William K. Chapman, et al. Wildflowers of New York in Color (Syracuse University Press, 1998), pp. 92-93.
Anne McGrath. Wildflowers of the Adirondacks (EarthWords, 1981, 2000), p. 75, Plate 20.