Adirondack Wildflowers:
Dwarf Rattlesnake Plantain (Goodyera repens)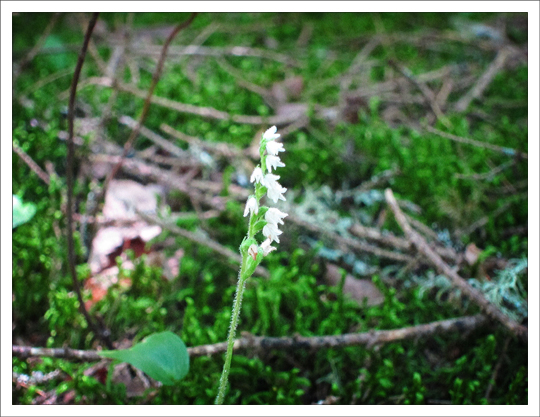 Dwarf Rattlesnake Plantain (Goodyera repens) is a native Adirondack wildflower and a member of the orchid family which blooms in shady moist coniferous or mixed woods, on mossy or humus-covered ground. The small white flowers grow on one side of a spike. The dark green leaves form a basal rosette and usually have wide whitish reticulations. The stem of the plant is five to ten inches tall. This plant is also known as Lesser Rattlesnake Plantain.
Dwarf Rattlesnake Plantain can be found on all northern continents. In the US, it is found throughout the northeast in cold, deep woods, mostly in the mountains.
Although the plant is not edible, it has been used for medicinal purposes. Cherokee tribes reportedly used it as a blood tonic, burn dressing, and cold remedy. Other native Americans are said to have used the roots and leaves for stomach diseases.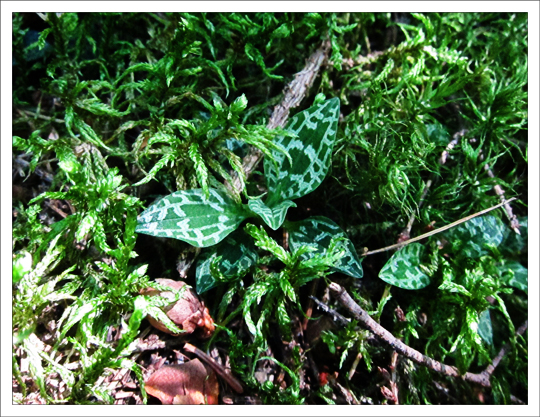 Dwarf Rattlesnake Plantain is found along the upland portions of the Boreal Life Trail at the Paul Smiths VIC, where it blooms briefly in late July or early August.
References
Lady Bird Johnson Wildflower Center. Native Plant Database.
United States Department of Agriculture. Plants Database.
Flora of North America. Database.
University of Michigan. Native American Ethnobotany. A Database of Foods, Drugs, Dyes and Fibers of Native American Peoples, Derived from Plants.
Plants for a Future. Database.
New York Flora Association. New York Flora Atlas.
The New York Botanical Garden. The C. V. Starr Virtual Herbarium.
NatureServe Explorer. Online Encyclopedia of Life.
Lawrence Newcomb. Newcomb's Wildflower Guide (Little Brown and Company, 1977), pp. 24-25.
Roger Tory Peterson and Margaret McKenny. A Field Guide to Wildflowers. Northeastern and North-central North America (Houghton Mifflin Company, 1968) pp. 18-19.
National Audubon Society. Field Guide to Wildflowers. Eastern Region. (Alfred A. Knopf, 2001), pp. 659.
William K. Chapman. Orchids of the Northeast. A Field Guide. (Syracuse University Press, 1997), pp. 60-61.