Adirondack Wildflowers:
Dwarf Ginseng (Panax trifolius)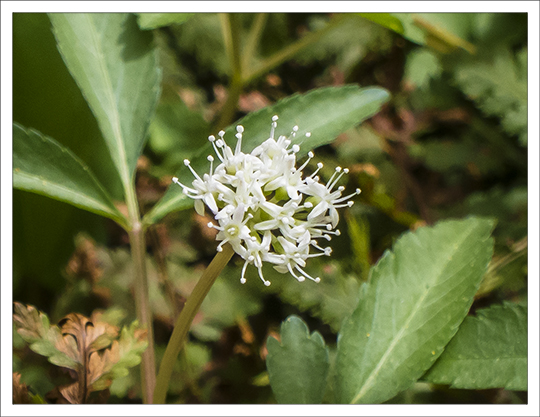 Dwarf Ginseng (Panax trifolius) is a woodland perennial that produces an umbrella of tiny, delicate white flowers in the Adirondack Mountains in mid-spring. The flowers turn pale pink with age. Each flower is 1/8 inch wide. The flowers are followed by yellow, berry-like fruit in July and August. The leaf is a single whorl of finely toothed leaflets. The plant reaches 3 to 8 inches in height.
Dwarf Ginseng is a member of the Araliaceae (Ginseng) family. It is also known as Ground Nut. The term "panax" is Greek for "all remedy" -- a reference to the ancient Chinese belief that the plant was a panacea. The term "trifolius" means "three-leaves."
This plant has been used by native Americans to treat a wide variety of ailments. Cherokee tribes used it to treat chest pain, headaches, hives, colic, gout, rheumatism, and liver ailments. The Iroquois are said to have used it for chest pains and as a sports medicine. In addition, the tuber of the Dwarf Ginseng reportedly can be eaten raw or boiled.
Dwarf Ginseng grows in shade or partial shade in rich soil in moist woods and damp clearings. It can be found in the eastern half of the US and Canada, including New York State, south to Georgia.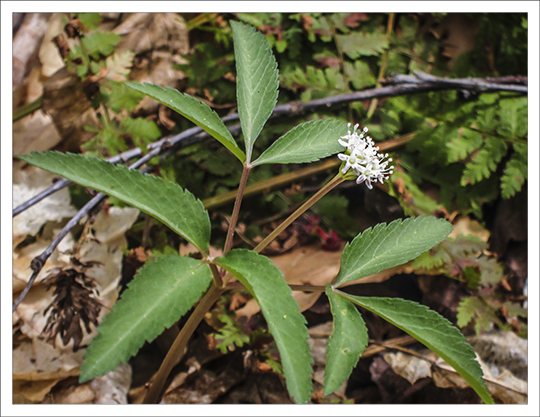 At the Paul Smiths VIC, Dwarf Ginseng may be seen along the Heron Marsh Trail. It usually blooms in this part of the Adirondack Park in early May, depending on the weather.
References
Lady Bird Johnson Wildflower Center. Native Plant Database.
United States Department of Agriculture. Plants Database.
University of Michigan. Native American Ethnobotany. A Database of Foods, Drugs, Dyes and Fibers of Native American Peoples, Derived from Plants.
NatureServe Explorer. Online Encyclopedia of Life.
Plants for a Future. Database.
University of Wisconsin. Robert W. Freckmann Herbarium.
Connecticut Wildflowers. Wildflower Guide.
US Forest Service. Celebrating Wildflowers
New York Flora Association. New York Flora Atlas.
ENature. Wildflower Field Guide.
Doug Ladd. North Woods Wildflowers (Falcon Publishing, 2001), p. 160.
Lawrence Newcomb. Newcomb's Wildflower Guide (Little Brown and Company, 1977), pp. 286-287.
Roger Tory Peterson and Margaret McKenny. A Field Guide to Wildflowers. Northeastern and North-central North America (Houghton Mifflin Company, 1968) pp. 52-53.
National Audubon Society. Field Guide to Wildflowers. Eastern Region. (Alfred A. Knopf, 2001), pp. 356-357.
William K. Chapman, et al. Wildflowers of New York in Color (Syracuse University Press, 1998), pp. 22-23.
Anne McGrath. Wildflowers of the Adirondacks (EarthWords, 1981, 2000), p. 5, Plate 2.