Adirondack Wildflowers:
Dewdrop (Dalibarda repens)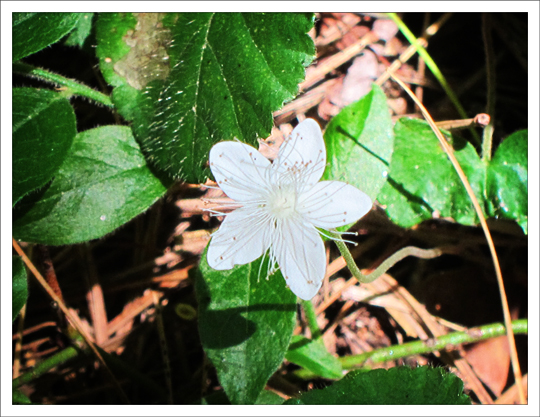 Wildflowers of the Adirondacks: Dewdrop (False Violet) in bloom at the Paul Smiths VIC (30 July 2012)
This widespread Adirondack wildflower produces small white flowers from early to mid-summer. A member of the rose family, this delicate, hairy plant is also known as False Violet (because of its violet-like appearance) and Robin Runaway. It grows less than 6" tall, with easily-recognized heart-shaped, scalloped leaves. The creeping stems are often shallowly buried. The flowers are about 3/8 inch side, with five rounded petals and numerous slender stamens.
Dewdrops flourish in shade and part shade in cool, moist hardwood and coniferous forests, as well as forested swamps and boggy areas. Its distribution includes Ontario east to Nova Scotia, south to North Carolina, and northwest to Ohio, Michigan and Minnesota. It is listed as endangered in Connecticut, New Jersey, North Carolina, and Rhode Island. This plant was reportedly used by the Iroquois as a blood purifier.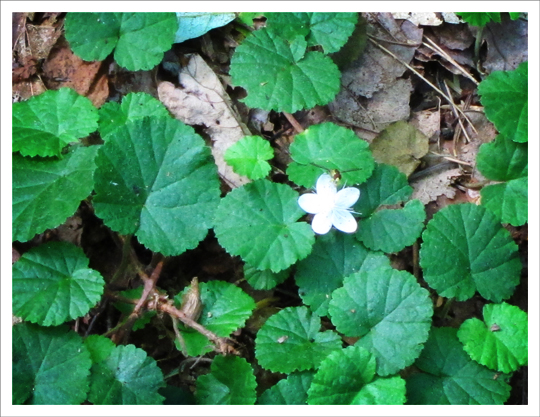 Wildflowers of the Adirondacks: Dewdrop (False Violet) blooming at the Paul Smiths VIC (22 July 2011)
Dewdrops are found on many of the trails at the Paul Smiths VIC, including the Barnum Brook Trail, the Heron Marsh Trail, the Boreal Life Trail, the Silviculture Trail, and the Black Pond Trail. It usually begins blooming in late June or early July and continues blooming through late August.
References:
Lady Bird Johnson Wildflower Center. Native Plant Database.
United States Department of Agriculture. Plants Database.
University of Michigan. Native American Ethnobotany. A Database of Foods, Drugs, Dyes and Fibers of Native American Peoples, Derived from Plants.
New York Flora Association. New York Flora Atlas.
The New York Botanical Garden. The C. V. Starr Virtual Herbarium.
NatureServe Explorer. Online Encyclopedia of Life.
Doug Ladd. North Woods Wildflowers (Falcon Publishing, 2001), p. 215.
Lawrence Newcomb. Newcomb's Wildflower Guide (Little Brown and Company, 1977), pp. 182-183.
Roger Tory Peterson and Margaret McKenny. A Field Guide to Wildflowers. Northeastern and North-central North America (Houghton Mifflin Company, 1968) pp. 32-33.
National Audubon Society. Field Guide to Wildflowers. Eastern Region. (Alfred A. Knopf, 2001), pp. 745-746.
William K. Chapman, et al. Wildflowers of New York in Color (Syracuse University Press, 1998), pp. 10-11.