Adirondack Wildflowers:
Cow-wheat (Melampyrum lineare)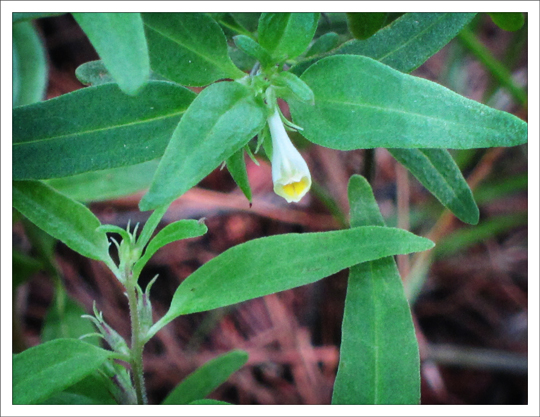 Cow-wheat is a native Adirondack wildflower that produces small, tubular whitish flowers with a yellow tip. The flowers resemble a snake's head. The leaves of Cow-wheat are 3/4 to 2.5 inches long. The plant usually grows 6 to 18 inches tall. The genus name (Melampyrum) is from the Greek for "black" and "wheat" and refers to the black seeds which are found in some species.
Cow-wheat grows in dry to moist woods, bogs, and rocky barrens in much of eastern North America, as well as Montana, Idaho, and Washington. In New York State, it has been documented in about half of the counties within the Adirondack Park Blue Line, including Franklin County (home of the Paul Smiths VIC). The plants are said to be partially parasitic on the roots of other plants
Cow-wheat does not appear to have played a major role in Native American medicine, although an infusion of the plant was reportedly used by one Indian tribe as an eye medicine.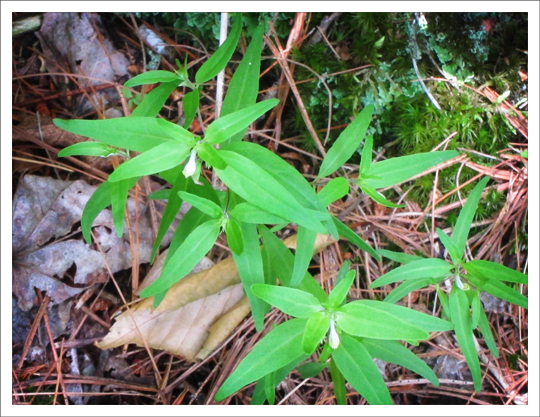 Cow-wheat is found on several of the trails at the Paul Smiths VIC, including the Heron Marsh Trail, the Boreal Life Trail, and the Barnum Brook Trail. Cow-wheat usually begins blooming at the Paul Smiths VIC in July.
References
Lady Bird Johnson Wildflower Center. Native Plant Database.
United States Department of Agriculture. Plants Database.
University of Michigan. Native American Ethnobotany. A Database of Foods, Drugs, Dyes and Fibers of Native American Peoples, Derived from Plants.
New York Flora Association. New York Flora Atlas.
The New York Botanical Garden. The C. V. Starr Virtual Herbarium.
NatureServe Explorer. Online Encyclopedia of Life.
Doug Ladd. North Woods Wildflowers (Falcon Publishing, 2001), p. 144.
Lawrence Newcomb. Newcomb's Wildflower Guide (Little Brown and Company, 1977), pp. 76-77.
Roger Tory Peterson and Margaret McKenny. A Field Guide to Wildflowers. Northeastern and North-central North America (Houghton Mifflin Company, 1968) pp. 124-125.
National Audubon Society. Field Guide to Wildflowers. Eastern Region. (Alfred A. Knopf, 2001), pp. 745-789.
William K. Chapman, et al. Wildflowers of New York in Color (Syracuse University Press, 1998), pp. 44-45.