Adirondack Wildflowers:
Coltsfoot (Tussilago farfara)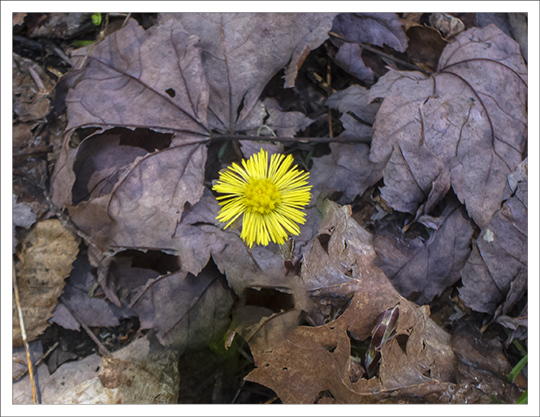 Coltsfoot (Tussilago farfara) is a nonnative plant which bears small bright yellow flowers in early spring. Its one-inch wide, dandelion-like flowers appear before the foliage. The flower stalk has reddish scales. The flowering heads close at night and on cloudy, rainy days. The leaves which develop later are toothed, shallowly lobed, and covered with white fuzz on the underside.
The common name refers to the resemblance of the leaf to a colt's foot. The genus name (Tussilago) comes from the Lain tussis ("a cough") -- a reference to the purported curative powers of the Coltsfoot for this ailment. The plant is also known as Son-before-Father -- a reference to the fact that the flowers appear before the leaves.
This plant is a member of the Aster family. It is not native to the US. It is native to Eurasia, including parts of northern Africa, India, and Nepal. The species was probably introduced to North America by early settlers. It is classed as an invasive or noxious weed in several states and parts of Canada, but does not appear to be a high-impact competitor.
Coltsfoot reportedly is a popular European remedy for a wide range of chest complaints and is widely available in health food stores. The Iroquois used an infusion of roots as cough medicine. The plant was also used to make a dye giving wool a greenish-yellow color. The dried leaves reportedly can be used to make Coltsfoot tea.
Coltsfoot prefers moist soils, but can also grow in drier areas, in partial shade or full sun. The plant is seen most frequently in disturbed open areas, but it has also been found in forest edges, old fields, and in forested areas which have experienced some form of disturbance, such as trail construction or fire. Coltsfoot grows in the eastern half of the United States, including New York State. It grows as far south as Tennessee and North Carolina.
Coltsfoot is common in the lower Adirondacks. At the Paul Smiths VIC, Coltsfoot may be seen along the Barnum Brook Trail. It usually blooms in this part of the Adirondack Park in late April or early May, depending on the weather.
References
United States Department of Agriculture. Plants Database.
University of Michigan. Native American Ethnobotany. A Database of Foods, Drugs, Dyes and Fibers of Native American Peoples, Derived from Plants.
NatureServe Explorer. Online Encyclopedia of Life.
Plants for a Future. Database.
University of Wisconsin. Robert W. Freckmann Herbarium.
Flora of North America. Database.
Connecticut Wildflowers. Wildflower Guide.
New York Flora Association. New York Flora Atlas.
Lawrence Newcomb. Newcomb's Wildflower Guide (Little Brown and Company, 1977), pp. 358-359.
Roger Tory Peterson and Margaret McKenny. A Field Guide to Wildflowers. Northeastern and North-central North America (Houghton Mifflin Company, 1968) pp. 110-111.
National Audubon Society. Field Guide to Wildflowers. Eastern Region. (Alfred A. Knopf, 2001), pp. 421-422.
William K. Chapman, et al. Wildflowers of New York in Color (Syracuse University Press, 1998), pp. 94-95.
Anne McGrath. Wildflowers of the Adirondacks (EarthWords, 1981, 2000), p. 76, Plate 21.
Ruth Schottman. Trailside Notes. A Naturalist's Companion to Adirondack Plants (Adirondack Mountain Club, 1998), pp. 26-29.