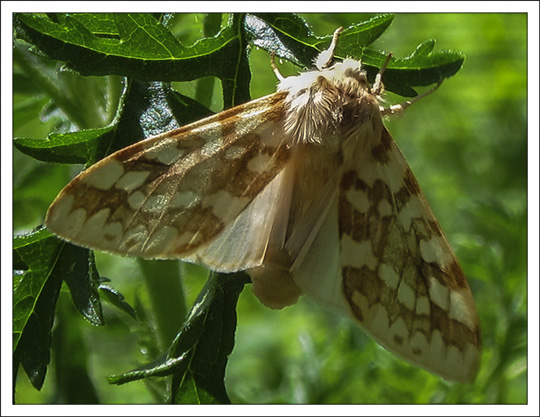 The Spotted Tussock Moth (Lophocampa maculata) is a small, attractive moth which may be seen in the Adirondack Mountains in June. The Spotted Tussock Moth is a tiger moth and a member of the family Erebidae. [1] This moth is also known as the Spotted Tussock, Yellow-spotted Tiger Moth and the Mottled Tiger. [2] [3] The name "Tussock Moth" is from the tufts of hair on the caterpillar. [4]
Identification: This moth has a deep yellow fore wing with four brown bands. [5] A partial fifth band extends inward from the costa. [6] The hind wing is translucent and is a paler yellow and unmarked. [7] [8] The moth's wing span is 3.5-4.3 centimeters.[9]
Life History: The larva of the Spotted Tussock Moth is black at both ends with four or five yellow or orange abdominal bands, broken by black. [10] Caterpillar hosts include birch, maple, oak, poplar, and willow. [11] Larvae prefer polar and willow leaves, but will also feed on alder, basswood, birth, maple, and oak. [12]
Range and Habitat: Spotted Tussock Moths are widespread throughout most of North America. [13] They may be found in boreal forests containing its host plants (deciduous tress.) [14] The range of this moth extends across southern Canada,and the western US, south to South Carolina and Kentucky. [15]
Flight: The adult Spotted Tussock Moth flies from May to July across its range. [16] The flight period for this moth in the Adirondack Park has not been documented. It is not a frequent guest in the Paul Smiths VIC Native Species Butterfly House. In 2012, the Spotted Tussock Moth was recorded as present on 9, 11, and 29 June. [17] In 2013, this moth was present in the Butterfly House in late June. [18]
References
Susan Grimm Hanley. Interpretive Naturalist, Paul Smith's College Native Species Butterfly House. Species Logbooks.
Butterflies and Moths of North American. Species Profiles. Sighting records:6/19/13, 6/20/13, 6/20/13
Iowa State University. Department of Entomology. BugGuide.
Discover Life. Lophocampa maculata.
Mississippi State University. Mississippi Entomological Museum. North American Photographers Group. Lophocampa maculata.
University of Alberta. Department of Biological Sciences. E.H. Strickland Entomological Museum. Lophocampa maculata.
Charles V. Covell, Jr. A Field Guide to the Moths of Eastern North America (Houghton Mifflin Company, 1984), p. 73, Plate 12.
David Beadle and Seabrooke Leckie. Peterson Field Guide to Moths of Northeastern North America (Houghton Mifflin Harcourt Publishing Company, 2012), pp. 308-309.