Moths of the Adirondack Mountains:
Rosy Maple Moth (Dryocampa rubicunda)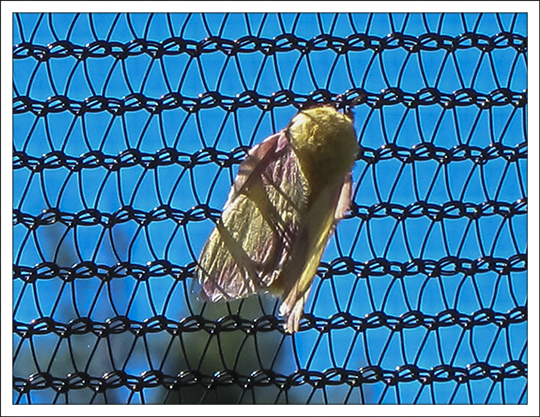 The Rosy Maple Moth (Dryocampa rubicunda) is a moth which may be seen in the Adirondack Mountains in upstate New York in late May and early June. [1] It is a nocturnal insect. [2] The Rosy Maple Moth is a member of the Saturnid family of moths, usually characterized by their unique feather-like antennae.[3] It is also known (in its capterpillar form) as the Green-striped Mapleworm. [4] The species name (rubicunda) is Latin for "ruddy." [5]
The Rosy Maple Moth is variable in color. [6] It has a woolly body, [7] dull yellow in color, with yellow/cream and pink wings.[8] The yellow color on the top wings is in a vertical band, bordered on both sides by pink. [9] The amount of pink on the wings can vary greatly. Its wingspan is from 1 5/16 to 2 1/16 inches. [10]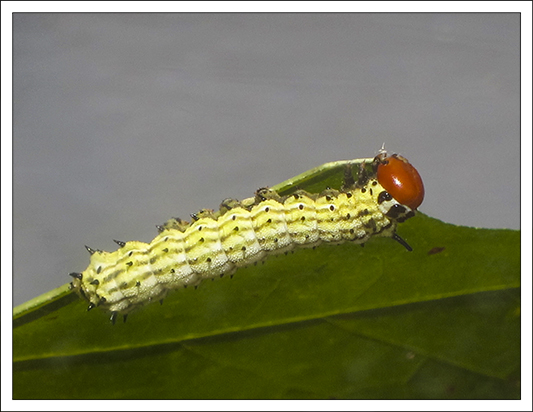 Adult Rosy Maple Moths mate in the late evening. The female lays her eggs at dusk the following day. The eggs take about two weeks to hatch. [11] The caterpillar is green to yellowish green, with black horns and an orange-brown or reddish orange head.[12] Its preferred host is the maple tree, but the caterpillar will reportedly also feed on box elder and oak. [13] The caterpillar can be a serious pest on maple and oaks. [14] Adults do not feed. [15]
The Rosy Maple Moth occurs throughout the eastern US as far west as Texas, Kansas, and Nebraska and as far north as couthern Canada. [16] Its habitat is deciduous woodland. [17] [18]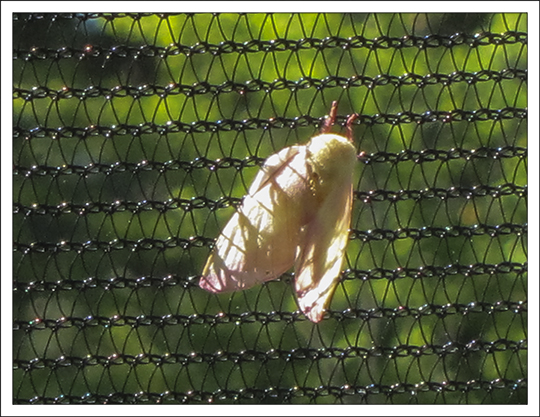 The potential flight period of the Rosy Maple Moth in our area is from late May to late July. [19] Most of the Rosy Maple Moth sightings in the Adirondack Mountains reported to Project Silkmoth have been in late May and early June. [20] In 2012, the Rosy Maple Moth was observed in the Paul Smiths VIC Butterfly House in early and mid-June. Rosy Maple Moth caterpillars were raised in the Butterfly House and could be seen in a glass-enclosed wooden cabinet in July and August. [21]
References