Butterflies of the Adirondack Mountains:
Orange Sulphur (Colias eurytheme)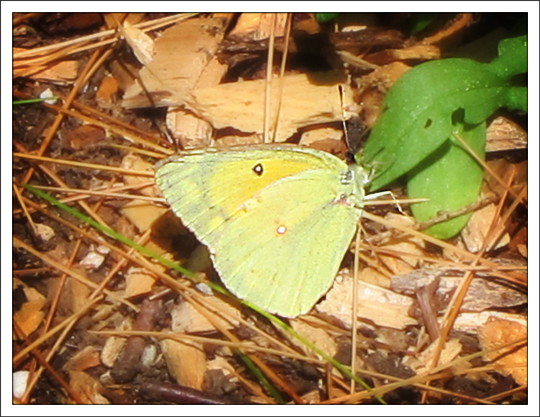 The Orange Sulphur (Colias eurytheme) is a medium-sized butterfly that may be seen in the Adirondack Mountains of upstate New York in summer. It is also known as the Alfalfa Butterfly [1] [2] -- a reference to the preferred host plant. Most sources agree that this butterfly colonized the east from its previously more western range, but they disagree on the timing. Some sources indicate that this butterfly first colonized the eastern United States in the 1930s. [3] Other sources suggest that the Orange Sulphur colonized the region east of the Appalachians after 1890. [4]
In terms of color, the Orange Sulphur is quite variable.[5] From above, the male may be bright orange with solid black borders or yellow with an orange flush in the middle of the wings. The female may be yellow or white with an irregular black border. This butterfly, like other Sulphurs, almost always perches with its wings closed, [6] [7] which means that most of our views of the Orange are from below. [8] Seen from below, the Orange Sulphur is more yellow than orange, resembling a Clouded Sulphur. [9] The Orange Sulphur is said to be somewhat larger, [10] [11] with wider dark wing margins. [12] It has a red-rimmed silver spot on the hind wing and a spot above it. [13] Both wings have a pink fringe. [7]The average wing span of the Orange Sulphur is 1.9 inches. [14]
Male Orange Sulphurs patrol back and forth from midmorning to midafternoon, with courtship and mating occurring primarily at midday. [15] The females lay their eggs singly on host plant leaves, which includes leaves from alfalfa, white clover, and white sweet clover. [16] The eggs are whitish in color,[17] turning crimson in a few days. [18] The caterpillars can cause considerable damage in alfalfa and clover fields, where they are considered to be an agricultural pest. [19] [20] Adults feed on nectar from a variety of flowers including goldenrod, aster, milkweed and dandelion.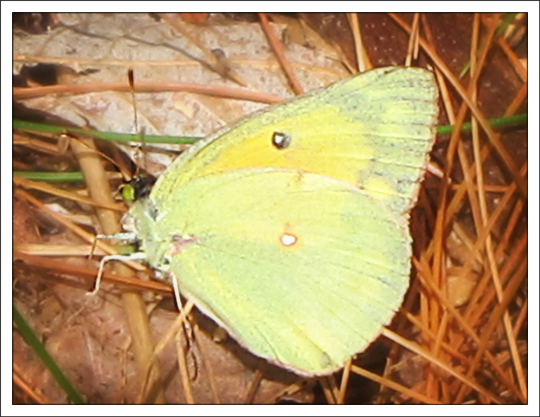 The Orange Sulphur is one of the most widespread butterflies in North America, ranging from Southern Canada to central Mexico.[21] The habitat of this butterfly includes nearly any open space, including open fields (particularly alfalfa fields), roadsides, and suburban areas. [22] [23]
The Orange Sulphur can be seen throughout much of the summer in the Paul Smiths VIC Native Species Butterfly House [24] and the surrounding areas of the Adirondack Mountains. [25] In the Butterfly House, the Orange Sulphur can often be seen perching with closed wings on the ground on a bed of pine needles.
References
Susan Grimm Hanley. Interpretive Naturalist, Paul Smith's College Native Species Butterfly House. Species Logbooks.
Butterflies and Moths of North American. Species Profiles. Sighting records: 6/23/12; 6/28/12; 6/30/12, 7/28/12
Government of Canada. Canadian Biodiversity Information Facility. SpeciesBank .
Massachusetts Butterfly Club. Massachusetts Butterfly Species List.
ENature. Field Guides.
University of Michigan. Animal Diversity Web.
National Audubon Society. Field Guide to Butterflies (New York: Alfred A. Knopf, 1981), pp. 372-273.
Jim P. Brock and Kenn Kaufman. Kaufman Field Guide to Butterflies of North America (Houghton Mifflin, 2003), pp. 60-61.
Paul A. Opler. A Field Guide to Eastern Butterflies (The Peterson Field Guide Series, Houghton Mifflin Company, 1992,1998), pp. 46-47, 60-61, 155-156.
Jeffrey Glassberg. Butterflies of North America (Michael Friedman Publishing, 2002), pp. 76-77.
James A. Scott. The Butterflies of North America. A Natural History and Field Guide (Stanford University Press, 1986), pp. 196-198.
Jeffrey Glassberg. Butterflies through Binoculars. The East. A Field Guide to the Butterflies of Eastern North America (Oxford University Press, 1999), p. 57, Plates 6 & 8.
Paul A. Opler and George O. Krizek. Butterflies East of the Great Plains: An Illustrated Natural History (The Johns Hopkins University Press, 1984), pp. 65-66, Plate 7.
Rick Cech and Guy Tudor. Butterflies of the East Coast. An Observer's Guide (Princeton University Press, 2005), p. 138.
David Carter. Butterflies and Moths (Dorling Kindersley, Inc., 1992), p. 72.